ROUTES/ROADS Magazine
Routes/Roads is an informational magazine. The articles present analysis, summaries, recommendations or states of practice in a country covering subjects of topical interest in the theme of roads and road transport.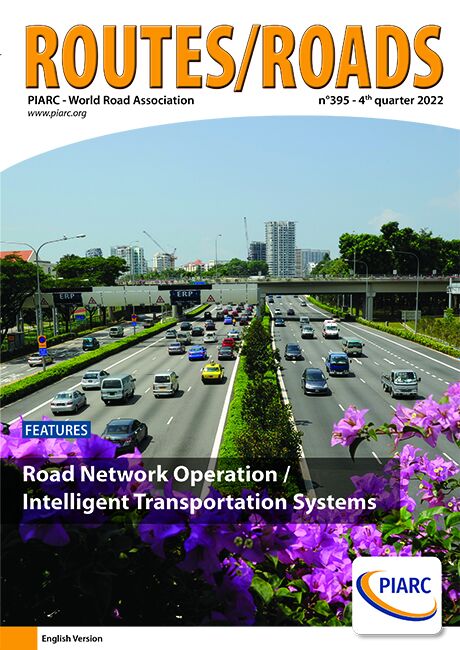 To download

Routes/Roads Magazine 395 - PDF Low Definition

(2.6MB)
To download

Routes/Roads Magazine 395 - PDF High Definition

(49.8MB)
ROUTES/ROADS


The PIARC magazine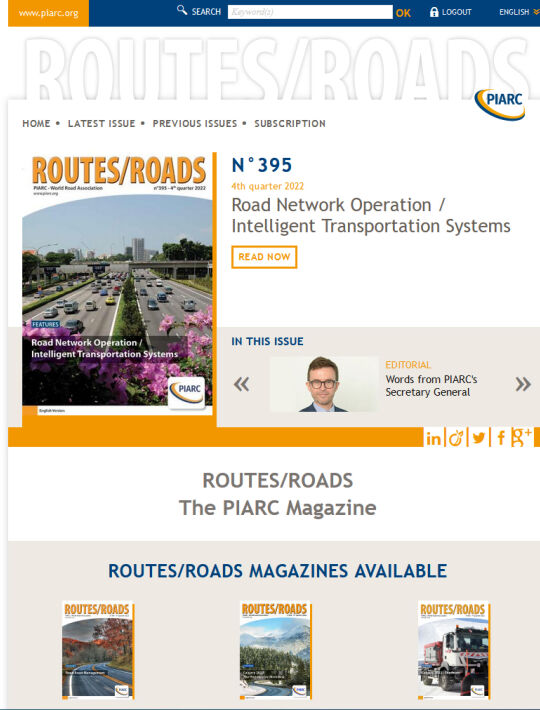 N° 395 — Road Network Operation / Intelligent Transportation Systems
4th Quarter 2022 / December
Contents of the issue N° 395 of Routes/Roads Magazine
Editorial
by Patrick Malléjacq
WHAT'S NEW?
WHAT'S NEW? Update
France - Decarbonisation: a Key Goal to Ensure Sustainable Roads
France - PIARC and IENE's Cooperation to Mainstream Biodiversity and Road Infrastructure for Tomorrow's Sustainable Mobility
Paraguay - Inclusion of Women in Non-Traditional Jobs within the Scope of Rural Road Improvement Work - Experience in Paraguay
Spotlight on young professionals - Robert Olariu (Romania)
Features
Road Stories
Masthead
Log in before downloading documents!
44 pages, English, number of subscribers: around 1,170 people, towards 142 countries.
PIARC President: Nazir Alli (South Africa)
Director of Publication: Patrick Malléjacq
Editor: Robin Sébille
Publications Manager: Cécile Jeanne
Translations: Id2m, Rennes (France)
Printing/Distribution: INGENIDOC / Saint-Etienne-du-Rouvray
Subscription (4 issues a year): 60 €
ISSN : 0004-556 X
Submit an article
Authors may or may not be members of the Association. Articles are subject to peer review, with technical committees of PIARC or outside experts to decide on publication.
Information on the life of the Association completes the magazine.
To submit an article for Routes/Roads, see the note to authors.
Subscription to Routes/Roads magazine
2022 Fees:
- Price of an annual subscription (four issues) is 60 €;
- For paper subscriptions of more than 10 copies, please contact PIARC.