World Road Congresses
Since the first World Road Congress held in Paris in 1908, PIARC (World Road Association) organises every four years in a member country a World Road Congress with the aim to share techniques and experiences worldwide in the field of road infrastructures and road transport.
From Paris 1908 to Abu Dhabi 2019 - History of the World Road Congresses
Abou Dhabi Congress
6-10 October 2019
The XXVIth World Road Congress, held in Abu Dhabi (United Arab Emirates) from 6 to 10 October 2019, confirmed its role as a major event for the road sector worldwide. This Congress, organized by PIARC and the Abu Dhabi Department of Transportation (DoT), brought together more than 6,000 participants from 144 countries, more than 3,700 delegates and more than 40 ministers and deputy ministers from around the world.
For more information, Click here!
---
Seoul Congress
2-6 November 2015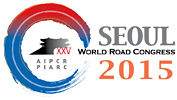 This XXVth World Road Congress was organized in close cooperation between the PIARC (World Road Association), responsible for the content and development of the programme, the Ministry of Land, Infrastructure and Transport of the Republic of Korea, the Korea Expressway Corporation, the Korea Road & Transportation Association and the PIARC Korean National Committee.
---
All Congresses