PIARC Online Manuals
PIARC has published five interactive electronic Manuals, which are available online free of charge. They cover the area of Road Safety, Road Network Operations/ITS, Road Tunnels, and Road Asset Management respectively. The Manuals are based on the overall PIARC experience and know-how and offer a detailed overview on the various topics and practical recommendations.
Disaster Management Manual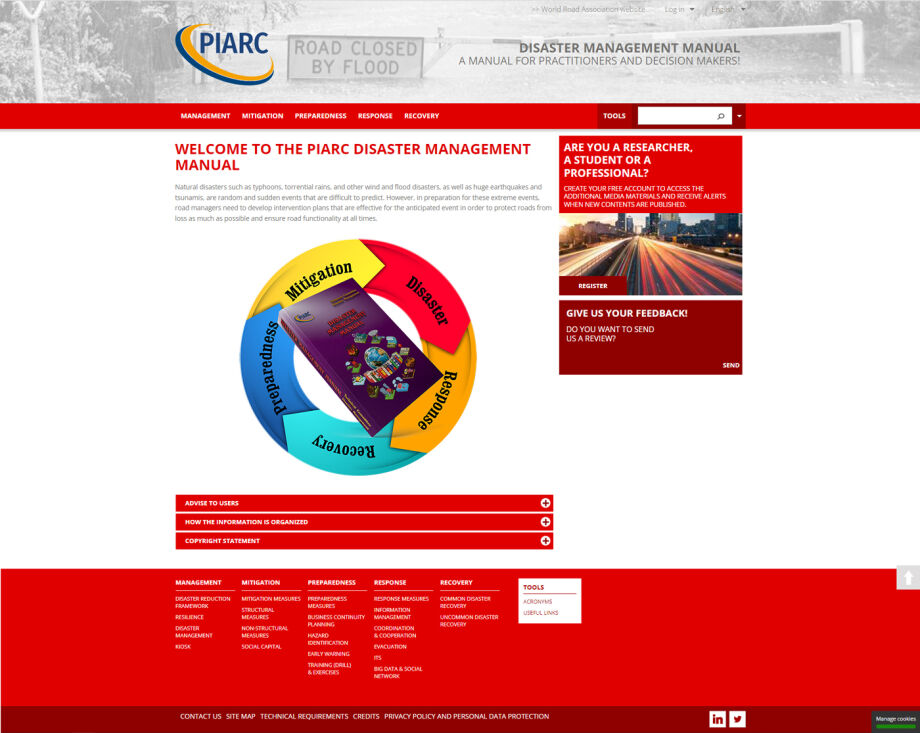 The Disaster Management Manual (DMM) provides advice on efficient strategies and methods for managing various disasters on roads network. It presents basic concepts and case studies of lessons learned and experiences gained in applying these basic concepts in practice. These ideas and examples are categorized and provided for each stage of the disaster management cycle.
The Manual is available free of charge on disaster-management.piarc.org (currently available in English only, French and Spanish versions to follow).
---
Road Asset Management Manual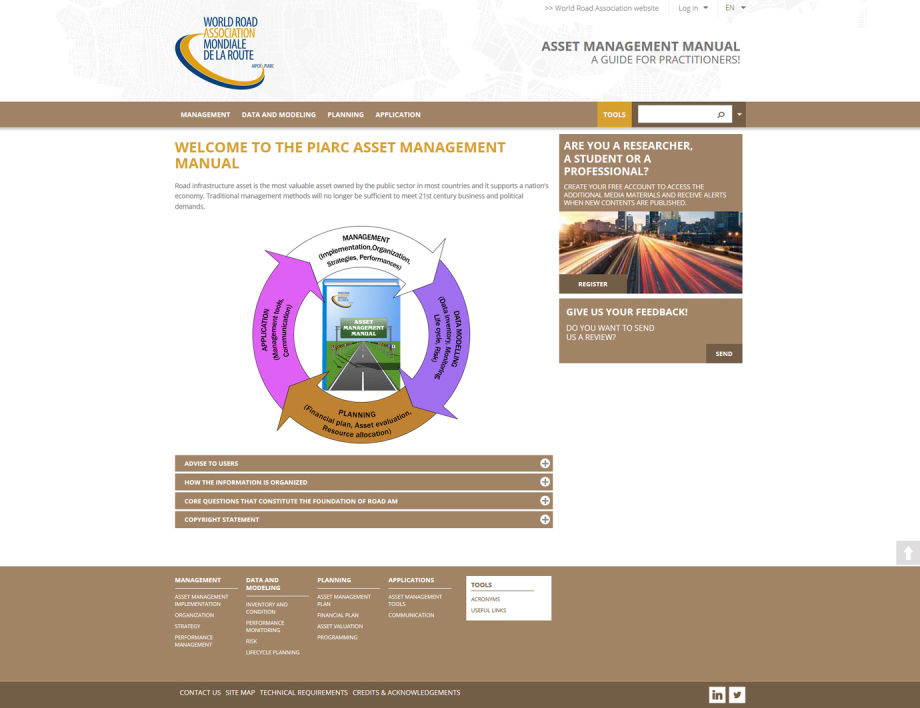 This new manual of the World Road Association (PIARC) aims to help the various countries, regardless of their development stage, in maintaining their road infrastructure and implementing road asset management strategies.
The Manual is available free of charge on road-asset.piarc.org (currently available in English only, French and Spanish versions to follow).
---
Road Safety Manual
The new Road Safety Manual (RSM) is designed to help countries at every stage of infrastructure development to fulfil road safety objectives. It includes new thinking on road safety and offers a clear argument on why adopting a Safe System approach is crucial for your country.
Manual accessed free of charge at roadsafety.piarc.org
---
RNO & ITS Manual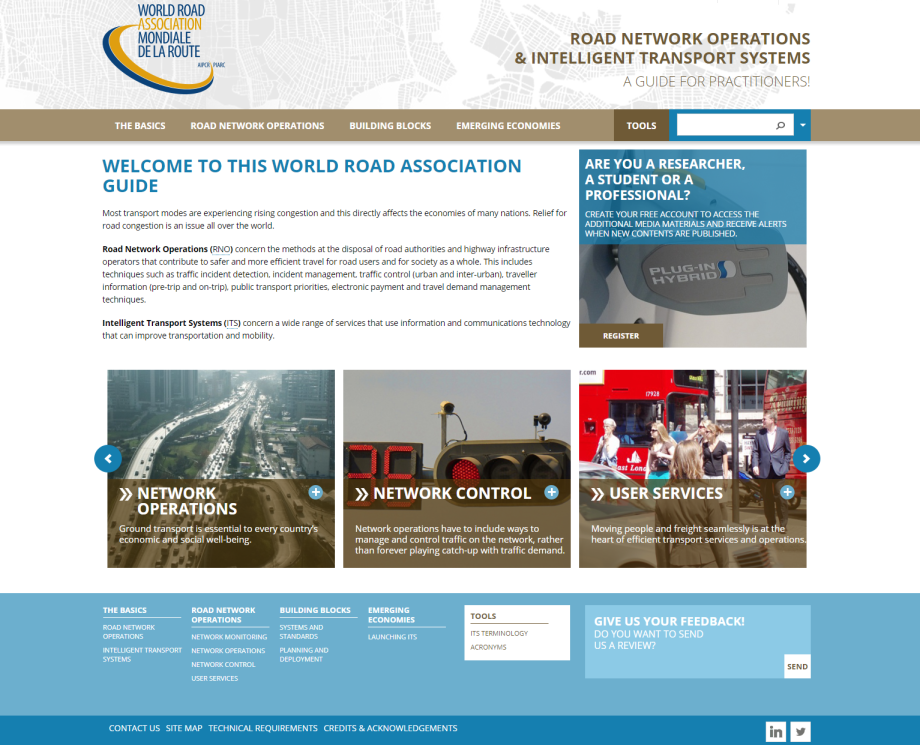 This electronic manual on RNO & ITS is a comprehensive, regularly updated handbook helping practitioners to alleviate road congestion. Road Network Operations (RNO) concern methods that contribute to safer and more efficient travel for road users. Intelligent Transport Systems (ITS) concern a wide range of services that use information and communications technology that can improve transportation and mobility.
Manual accessed free of charge at rno-its.piarc.org (currently in English and Spanish, French version will soon be available)
---
Road Tunnels Manual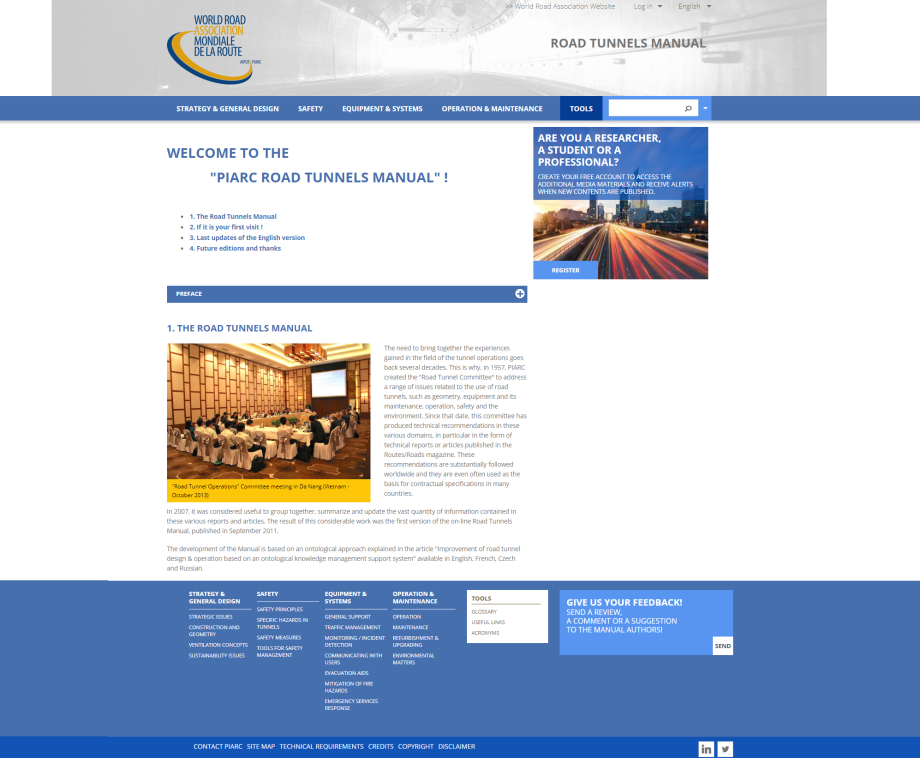 The Road Tunnels Manual is an update of the previous website tunnels.piarc.org and reproduces all previous contents. The Manual covers the aspects related to the use of road tunnels, i.e. geometry, tunnel equipment and related maintenance, operation, safety, and environment. It includes all reports and articles produced by the Technical Committee on Road Tunnels Operations since 1995.

Manual accessed free of charge at tunnels.piarc.org (in English, French, Italian, Japanese, Spanish, Arabic, Chinese, Korean, Portuguese and Czech)
---
Earthworks Manual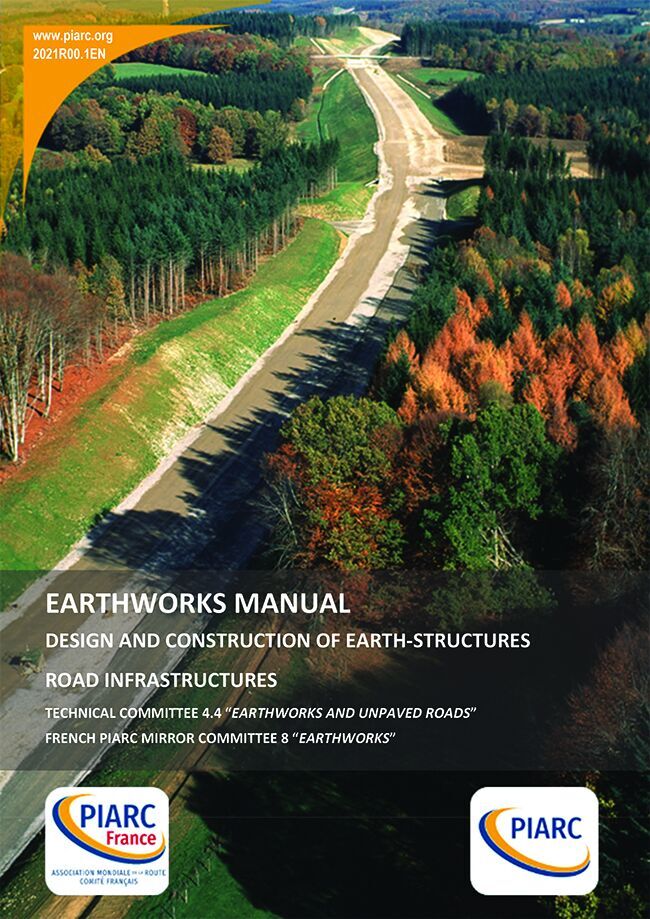 The Earthworks Manual is an important technical document for the profession and stakeholders in the field of activity.
It is eagerly awaited by the experts from many countries who have contributed to its content.

The Manual is organised in two parts:
Part 1: General considerations
Part 2: Specific technical developments
Manual accessed free of charge here.
---