ROUTES/ROADS Magazine - Previous issues available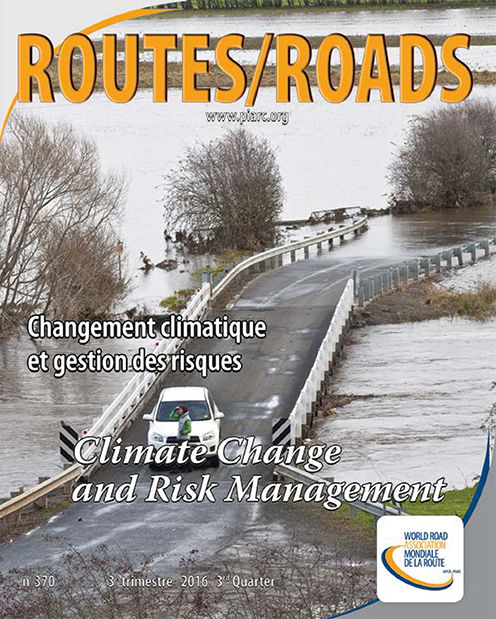 ROUTES/ROADS


The PIARC magazine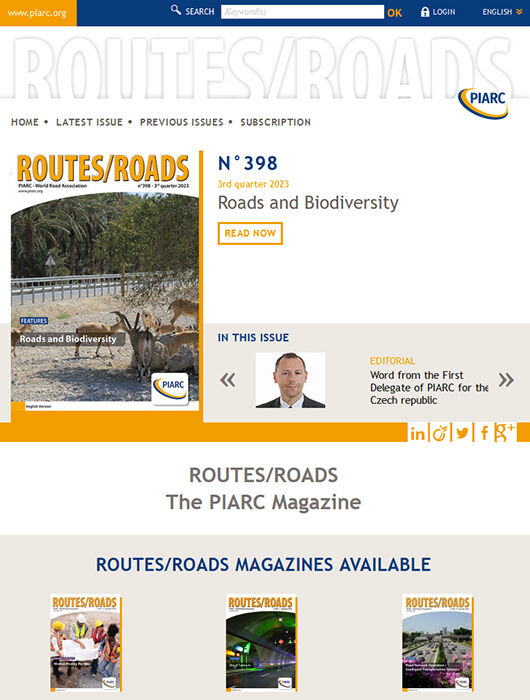 Download the magazine in low resolution

Routes/Roads N° 370 - Magazine in pdf format

(4.7MB)
N° 370 — Climate change and Risk management
3rd quarter 2016 / July
Contents of Routes/Roads magazine N° 370
Editorial
by Roberto Aguerrebere
WHAT's NEW?
Calendar
What's new? Joint PIARC-CEDR workshop held on winter service - The Edinburgh Executive Committee - PIARC in attendance at Serbia's 2nd Road Congress - PIARC in Central Asia - 1st African Congress on Pavement Maintenance and Preservation and Technical Inno
Update: Designing and signing of no-passing zones in Portugal by Carlos de Almeida Roque The first national "black spot" identification and prioritization manual for Iran road network by Reza Akbari and Mehran Ghorbani
Forum for National Committees of the World Road Association: Italy
Spotlight on Young Professionals: Josefin Jäderberg and Klara Häger (Sweden)
Features
Road Stories
Summaries
Note to the authors
Masthead
Log in before downloading documents!
100 pages, bilingual French-English, distribution: 5,600 copies towards 142 countries.
PIARC President: Oscar de Buen Richkarday (Mexico)
Director of Publication: Patrick Malléjacq
Editor: Robin Sébille
Publishing Assistant: Cécile Jeanne
Translations: Marie Pastol (PIARC), Isabelle Chemin, Isabelle Couté-Rodriguez
Printing: IMB (France) ; Diffusion: GIS (France)
Price of a single copy: 20 €
Subscription (4 issues a year): 60 €
ISSN : 0004-556 X
Submit an article
Authors may or may not be members of the Association. Articles are subject to peer review, with technical committees of PIARC or outside experts to decide on publication.
Information on the life of the Association completes the magazine.
To submit an article for Routes/Roads, see the note to authors.