UN Decade of action

On 11 May 2011, the UN General Assembly adopted resolution A/RES/64/255 with the goal of improving road safety: Text of the resolution.
This text was followed by a presentation by the Secretary General of the United Nations, Mr. Baan Ki-Moon, of the Global Plan of Action for the Decade for Road Safety 2011-2020: Global Plan.
During the XXIV World Road Congress in Mexico, 27 September 2011, the World Road Association formally recognized this initiative through the Council adoption of a declaration of support:
---
Road Safety Manual acknowledged by the United Nations
The World road association (PIARC) is proud that its Road Safety Manual has been acknowledged on 15 April 2016 in the United Nations' resolution A/70/L.44 on road safety.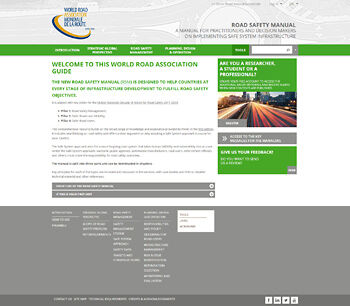 The UN General Assembly and its Member States adopted a resolution on "Improving global road safety". The resolution, which was tabled by the Government of the Russian Federation, was co-sponsored by 55 governments.
Thanks to the effort of the USA's Federal Highways Administration, PIARC's online Road Safety Manual was acknowledged as an important international effort in UN resolution A/70/L.44.
PIARC developed its Road Safety Manual to help countries at every stage of infrastructure development to fulfill road safety objectives. It is aligned with key pillars of the UN decade of action.
The World Road Association (PIARC) has established Technical Committees to update and promote the use of its online manual.
The Global Plan of Action has five components. The World Road Association contributes to the work of three pillars highlighted in bold:
Pillar 1: Management of Road Safety
Pillar 2: Road Safety and Mobility
Pillar 3: Vehicle Safety
Pillar 4: Safety of road users
Pillar 5: Post-crash care
---