ROUTES/ROADS Magazine - Previous issues available
ROUTES/ROADS


The PIARC magazine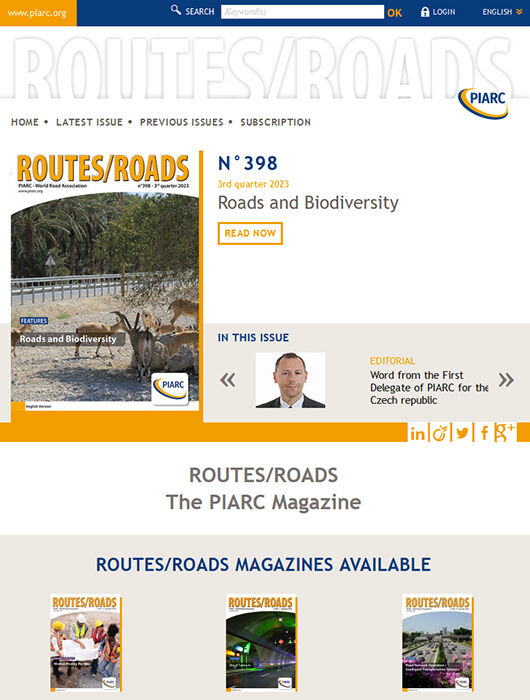 Download the magazine in low resolution

Routes/Roads N° 344 - Magazine in electronic format

(3.6MB)
N° 344 — Roads and wildlife preservation - Risk perception - HDM-4
4th Quarter 2009 / October
Contents of Routes/Roads magazine N° 344
Editorial
by Friedrich Zotter
What's new?
Calendar
Focus on PIARC Seminars in 2009-10 : Mali - India
What's new? Nominations - STB Information - Terminology
Update: Burkina Faso - Canada-Quebec - Indonesia
Features
Road stories
Summaries
Note to the authors
Masthead
96 pages, bilingual French-English.
PIARC President: Anne-Marie Leclerc (Canada-Quebec)
Director of Publication - Editor in chief: Jean-François Corté
Art direction: Céline Le Graciet
Graphic designer: Cécile Aurousseau
Translations: Marie Pastol (AIPCR-PIARC), Isabelle Chemin, Isabelle Couté-Rodriguez, Robert Sachs
Also with the participation of: Roger Apharel, Franck Charmaison, Jeremy Kaltenrieder, Hanitra Rabetaliana (AIPCR-PIARC)
Printing: IMB (France) ; Diffusion: GIS (France)
Price of a single copy: 20 €
Subscription (4 issues a year): 60 €
ISSN : 0004-556 X
Submit an article
Authors may or may not be members of the Association. Articles are subject to peer review, with technical committees of PIARC or outside experts to decide on publication.
Information on the life of the Association completes the magazine.
To submit an article for Routes/Roads, see the note to authors.