International Seminar "Highway & Roads Financing"
Proceedings of the International Seminar
The program included the participation of speakers in the areas of financing, such as experts from the UN Economic Commission for Latin America and the Caribbean (ECLAC), multilateral banks (Inter-American Development Bank - IDB, the Development Bank of Latin America - CAF), commercial banks of Chile, the Council of Road Directors of Iberia and Ibero-America (DIRCAIBEA) and representatives from Germany, Argentina, Canada, Colombia, Ivory Coast, Japan, USA, Nicaragua, Peru, Dominican Republic and Chile.
This event was held at the headquarters of the Chilean Engineers Professional Association attended by approximately 150 people and also a technical visit to a project of interest in the issue of funding was made.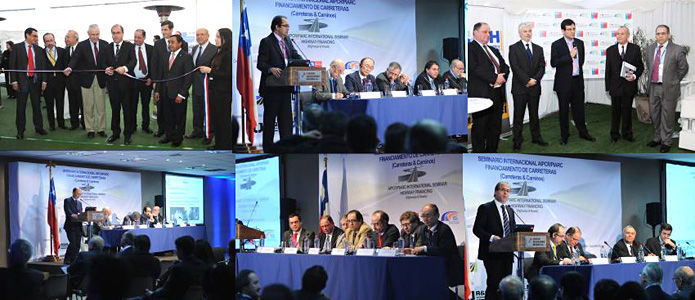 The seminar aimed at presenting specific and current road financing matters, the experiences of Chile and countries around the world, and at analyzing the state of the art in the practice and challenges of public works contracts through its various financing alternatives, risk aspects, service levels and needs of countries to evolve in the construction, operation and maintenance of roads.
This seminar was composed of following activities:
financial Area, whereattendees, speakers and experts had the opportunity to meet and learn more specifically the view of public, private and academic sectors on transportation funding issues;
lecture Class, which presented the state of the infrastructure funding mechanisms and how new infrastructure contributes to the well being of people, in addition to improving the physical and digital connectivity to meet the thresholds of developed countries;
debate on Finance, with the participation of experts from public, private and academic sector who expressed their views on several topics of road financing sector;
study tour to the worksite of an urban concession project, covering the control center and a tunnel under construction by the Concessionaire Costanera Norte; this tunnel will link two major urban highways in Santiago, which are part of the free flow toll payment system.
International Seminar Program - 09-10 July 2014
"Highway Financing"
Submissions in Spanish

First day of the seminar (09 July)

Hour

Conferences

09:00
10:30

OPENING CEREMONY

Host
Mr. Miguel ROPERT, President of the Chilean Roads and Transport Association

Presentation
Mr. Mario FERNÁNDEZ, Director of the National Roads Administration - AIPCR First Delegate in Chile

Concessions MOP
Mr. Eric MARTIN, Public Works Concessions Coordinator of Chile

PIARC
Mr. Richard DESLAURIERS, Partner at Infrastructure and Financement of Projects PricewaterhouseCooper LLP. Montreal (Canada)

Opening
Mr. Alberto UNDURRAGA, Public Works Minister of Chile

10:30
12:30

Module I - Diagnosis of the Public and Private System Investment
"Consideration and analysis of the different sources of funding for road infrastructure"

Moderator: Mr. German MILLAN, Vice President, Chilean of Roads and Transport Association

PIARC and Technical Committee Activities
Mr. Takaaki NAMBU, Hanshin Expressway Company Limited. Senior Adviser and Technical Committee Member

Infrastructure Financing: Options for Sustainable Development
Mr. Patricio ROZAS, Researcher, Economic Commission for Latin America and the Caribbean ECLAC

Role of multilateral agencies in financing of road infrastructure
Mr. Diego SANCHEZ, Director of Analysis and Programming Sector Vice President of Infrastructure - Development

Financing Physical Integration Projects - Road Connectivity
Mr. Patricio MANSILLA, Integration Infrastructure Specialist, Inter-American Development Bank IDB

Public Funding Sources
Mr. Roberto RIVEROS, Deputy director of studies, Directorate of Planning, Ministry of Public Works of Chile

Questions and Answers

13:00
14:00

Lunch

14:00
15:20

Module II - How to improve financing of road infrastructure
"Using Innovative Mechanisms for Private Sector Financing of Roads"

Moderator: Mr. Jack MOLINA, Project Management Unit Road Management Division. National Roads Administration

Non Traditional Instruments and Mechanisms for Infrastructure Financing
Mr. Eduardo ABEDRAPO, International Consultant

Tools for Value Capture to Leverage Traditional Financing of Roads
Mr. Rafael ALDRETE, Texas Transportation Institute USA, PIARC TC 1.2 member

Contributions from the Private Sector for Development of Road Infrastructure
Mr. Juan Pablo HERNÁNDEZ, Head of Road Management Division and diffusion - Chilean Roads Administration

Questions and Answers

15:20
15:40

Coffee break

15:40
18:00

Module III - Maintenance Financing, Operation and Service Standards
"Sources of Funds for Road Maintenance and Procedures for Effective and Efficient Implementation"

Moderator: Mr. Juan COFRÉ, Head of Urban Road Infrastructure Division - Roads Administration PIARC TC 2.2 member

Framework for Road Financing
Mr. Alberto BULL, Specialist on Road Issues, National Roads Administration, Ministry of Public Works of Chile

Road Maintenance: From Current Situation to a Model by Standards
Mr. Ernesto BARRERA, Head of the Department of Maintenance, National Roads Administration

Nicaragua Experience en Road Maintenance Contracts by Standards or Service Levels
Mr. Germán CRUZ, Road Maintenance Fund, FOMAV

Finance Management in Road Mitigations for Urban Roads of Chile
Mr. Horacio MALDONADO, Head of Department of Regulation and Urban Road Administration, Ministry of Public Works of Chile, PIARC TC 1.2 Member

Technical Demands Required for Construction, Maintenance and Operation of Public Private Partnership Contracts, the case of Germany
Mr. Norbert ULRICH, PIARC TC 1.2 Member

Toll roads in Japan
Mr. Nobuyuki KITANI, apan Expressway Holding and Debt Repayment Agency (JEHDRA)

Questions and Answers

Second day of the seminar (10 July)

Hour

Conferences

09:00
10:00

LECTURE

Challenges for Road Infrastructure Financing
Mr. Juan Carlos LATORRE, Advisor, Board of Enterprise System(SEP), Vice-Ministry of the Ministry of Public Works

10:00
11:40

Module IV - PRIVATE FINANCING EXPERIENCE
"Private Sector Resources for Infrastructure Development"

Moderator: Mr. Javier VELÁSQUEZ, PIARC TC 1.2 member - Academic - Technical University Federico Santa María

Vision of Private Financing for Road Infrastructure in Chile
Mr. Rafael RODRIGUEZ, Manager Corporate Banking, Banco de Chile

Private Initiatives: an Alternative for Development
Mr. José Luis GALASSI, General Manager R & Q Engineering SA

Experience on Financing for Urban Highway Concessionaires in Chile, from Construction to Operation
Mr. Diego SAVINO, General Manager, Costanera Norte Road

ZODUC Project, Valle Grande
Mr. Jaime DEL VALLE, Valle Grande Real Estate General Manager

Questions and Answers

11:40
12:00

Coffee break

12:00
13:40

Module V - EXPERIENCES ON ROAD CONCESSIONS
"Presentation of specific cases of public - private partnership in road infrastructure"

Moderator: Mr. José Miguel ORTEGA, Public-Private Partnership Contract Coordinator, Roads Administration, Ministry of Public Works of Chile

International Experience of Road Concessions
Mrs. Azhar JAIMURZINA, Unit Commanding Officer, Infrastructure Services Economic, Commission for Latin America and the Caribbean ECLAC DRNI

Challenges for Chilean Concessions
Mr. Eric MARTIN, Concessions Coordinator of the Ministry of Public Works of Chile

Experiences of Road Concessions in Latin America
Mr. José Luis BONIFAZ, University of the Pacific, Lima Peru - International Consultant Economic Commission for Latin America and the Caribbean ECLAC

Transport Infrastructure: Investment and Financing at Metropolitan Area of Buenos Aires
Mrs. Haydée LORDI, PIARC TC 1.2 Member

Questions and Answers

13:40
14:40

Lunch

14:40
15:10

Module VI - Expert Panel and Debate
"Specialists Approaches to Road Financing"

Moderator: Mr. Javier OSORIO, Director General of Public Works, Ministry of Public Works, Chile

Experts Panel:

M. Takaaki NAMBU
M. Mario FERNÁNDEZ
M. Eric MARTIN
M. Patricio ROZAS
M. Diego SAVINO
M. Diego SÁNCHEZ

15:10
15:40

CLOSURE OF THE SEMINAR
---