Heading to 2021 with PIARC!
December 2020
It's a good time to look back at PIARC's achievements over the past year. 2020 has been full of challenges for everyone, but we were able to face the difficulties! We look forward to achieving a lot more together over the next years!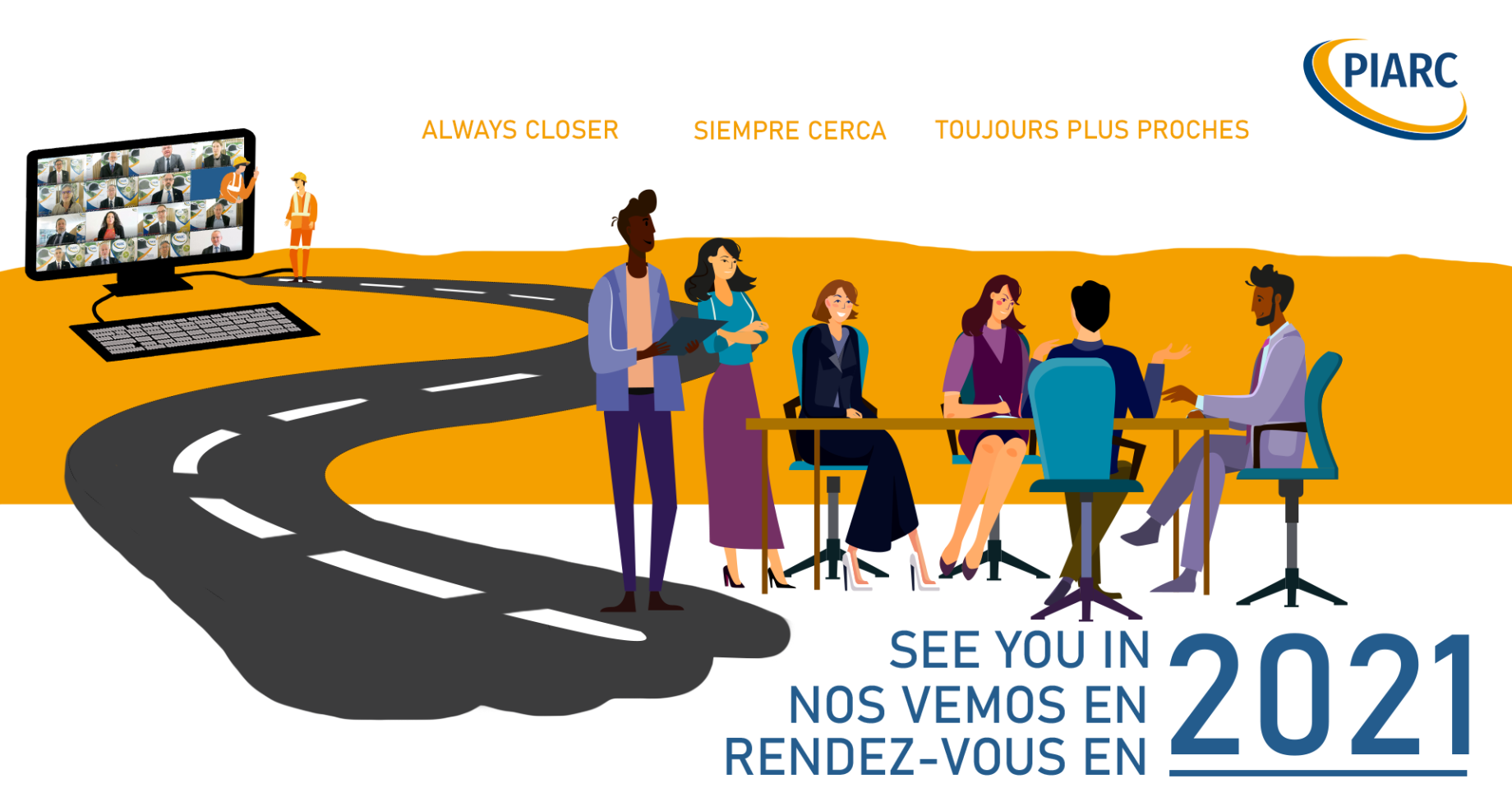 At PIARC we have continued to work hard to identify knowledge about road and road transport and share it with our members.
In January 2020, the Association started its new work cycle, with more than 20 new Technical Committees and Task Forces. They tackle a broad range of topics covering finance, pavements, road safety, and many others, thanks to the involvement of more than 1,000 international experts. The 2020 - 2023 Strategic Plan, which will guide PIARC's activities over the next four years, was thus launched.
This Plan will be updated regularly, in order to reflect the flexibility that our members expect from us. This is why we contracted out two projects, on road related data and on the impact of overweight vehicles, and launched two new Task Forces in September, on electric road systems and on road design standards.
The COVID-19 pandemic has led PIARC to set up a Response Team, made up of experts from various Technical Committees. They were able to organize the rapid sharing of knowledge and practices between PIARC members on the various impacts of, and responses to, the pandemic in the road sector. Among others, an amazing 27 webinars have been organized, in English, French and Spanish, and more are planned.
PIARC also published the Final Proceedings of the XXVIth World Road Congress, a reference event for the road sector worldwide, which we organized with the Abu Dhabi Department of Transportation. PIARC Congress included 500 oral presentations and 243 posters: They can all be found in these proceedings, together with detailed conclusions for each of the 75 sessions and workshops. At the same time, we decided to publish the Final Proceedings of the XVth International Winter Service Congress, which was held in Gdansk (Poland) in 2018, with an improved and easier-to-navigate structure.
At the end of 2019, we had published the outputs of the work of the previous cycle. Those 46 reports cover the whole range of PIARC topics and are available from our website for free in English and, for most of them, in French and Spanish as well. Four issues of our Routes/Roads magazine were published, with a focus on the 26th World Road Congress (double issue), on bridges, and on roads and landscape.
Our activities seem to be appreciated. Our technical reports were met with a satisfaction rate of more than 85% in 2020, and we can definitely say that they are recognised as references by the road community. What's more, 3,000 experts and organisations have now decided to follow us on Twitter, at @PIARC-Roads, which is a great way to stay up-to-date with the activities of the Association and of our network of 48 National Committees.
The year that is about to begin will be just as rich. Our first new reports are expected in early 2021, and PIARC's international seminar program will start with a seminar on winter service which is scheduled for September in Kiev (Ukraine), and we certainly hope that it will held face to face, at last.
Looking farther ahead, PIARC will organize the "XVIth World Congress on Winter Road Service and Road Resilience" from February 8 to 11, 2022 in Calgary (Canada), ie.e in less than 14 months This will be a tremendous opportunity for all and a step change for our Association:
Spanish will be an official language of the Congress;
The theme of "resilience" has been added to the core theme of "winter service";
This means that the Congress will be of interest to all countries in the world, whatever their climate conditions.
In the meantime, the international call for papers is still open, until 31st January 2021, and we invite experts and practitioners to submit an abstract and prepare to present their research, best practice or case study in Calgary.
We look forward to achieving a lot more together over the next years!
---
Further information: