The final proceedings of the XXVIth World Road Congress have just been published on PIARC's website!
20th October 2020
More than than 5,000 delegates from 145 countries and 42 Ministers of Transport took part in the XXVIth World Road Congress, held from 6 to 10 October 2019 in Abu Dhabi (UAE).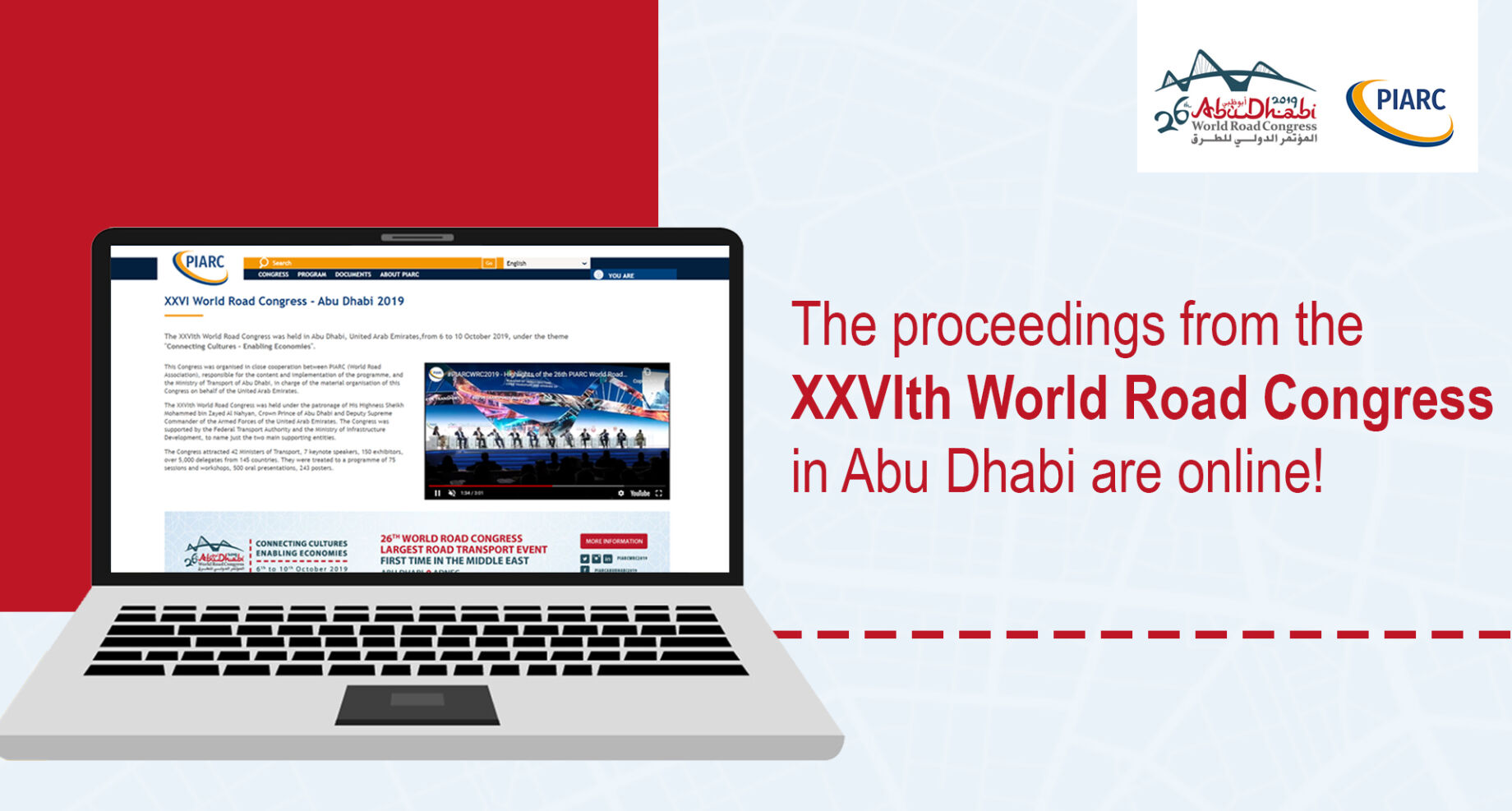 Under the theme "Connecting Cultures, Enabling Economies", the XXVIth World Road Congress, held from 6 to 10 October 2019 in Abu Dhabi (UAE), confirmed its role as a major event for the road sector worldwide. This event, organized by the World Road Association (PIARC) and the Abu Dhabi Department of Transportation (DoT), attracted 42 Ministers of Transport, 7 keynote speakers, 150 exhibitors and over 5,000 delegates from 145 countries to share their views, best policies and practices over five days. The Congress has included 75 sessions and workshops, 500 oral presentations and 243 posters.
>> The final proceedings of the XXVIth World Road Congress are now available, as a dedicated website: https://proceedings-abudhabi2019.piarc.org/en/ <<
It contains:
The general report of the Congress, prepared by GHD under contract with the Ministry of Transport of Abu Dhabi on behalf of the United Arab Emirates,
The Congress programme, including the technical programme and accompanying persons' programme,
The introductory reports and conclusions of the sessions,
Individual papers selected by the Technical Committees and Task Forces from the proposals received to the call for papers,
National reports produced by PIARC member countries for the strategic direction sessions,
PIARC's activity report for each of the years since the last World Road Congress in Seoul in 2015.
Save the date for the next PIARC World Road Congress: Prague 2023!
Every four years, a World Road Congress is organised in a member country with the aim to share techniques and experiences worldwide in the field of road infrastructures and road transport. The next World Road Congress, organised jointly by PIARC and the Czech Local Organizing Committee (LOC), will be held in Prague from 2 to 6 October 2023 at the Prague Congress Centre (PCC). PIARC looks forward to seeing you at the XXVIIth World Road Congress!



But before that, let's head to Canada, and more specifically to Calgary where the next PIARC World Winter Service and Road Resilience Congress will be held from 8 to 11 February 2022. This Congress will be structured around two Themes: Winter Service and Resilience. In this regard, PIARC invites you to answer the call for papers on 15 different technical topics in order to contribute to the programme of the Congress, before 30thNovember 2020.
---
Further information: