Final stretch before the World Road Congress, register now!
Published on 12 September 2023.
See you in 3 weeks' time in Prague, Czech Republic.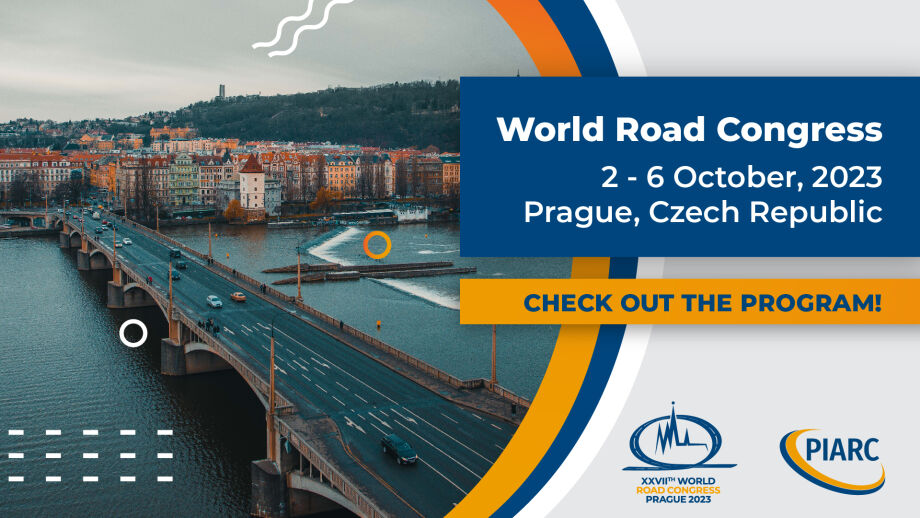 It is not too late to register for the World Road Congress, which starts on 2 October 2023. With a rich programme of ministerial sessions, technical sessions, poster sessions, technical visits, specialised workshops, foresight sessions and networking; come and experience the international event for roads and road transport with us!
And stay tuned: you'll soon be able to download the mobile application that will enable you to take full advantage of all the Congress activities!
>> Register here <<
Practical information
Dates: from 2 to 6 October 2023
Venue: Prague Congress Center (PCC), Czech Republic
Languages: Simultaneous translation in English, French, Spanish and Czech
---
Technical programme
The website for the pre-proceedings of the Congress is officially open. It contains:
The detailed programme including the technical programme of each session,
National reports produced by PIARC Member Countries for the Strategic Direction Sessions,
Individual communications selected by the Technical Committees and Task Forces from among the proposals received following the Call for Communications.
>> Discover the detailed programme of the Congress <<
---
Technical visits
As part of the technical programme of the Congress, we are offering 16 technical visits, both to interesting road structures currently under construction or recently completed, and to structures built in the past that are unique because they represented European - or even world - excellence at the time they were built. These include bridges, the oldest of which date back to the 14th century.
The programme includes 5 half-day excursions in Prague, 9 full-day excursions in the Czech Republic and 1 excursion to Bratislava.
---
Exhibition
An exhibition covering 3,000m2 will be held alongside the Congress. You will find over 300 public and private companies, as well as over 35 national pavilions, presenting their developments in the road sector. The exhibition is almost sold out!
Our open-air exhibition area will allow exhibitors to showcase their demonstration cars, technology, machinery or heavy equipment, special materials or autonomous cars, for experts and the public alike!
See you in Prague! ● À bientôt à Prague ! ● ¡Nos vemos en Praga! ● Na viděnou v Praze!
Further information