XVI World Winter Service and Road Resilience Congress
Online, 07-11 February 2022 (Calgary time)
Let's meet online on 07-11 February 2022 for the XVI World Winter Service and Road Resilience Congress. The overall theme for the Congress is "Adapting to a Changing World".
Program of Calgary Congress 2022 available online!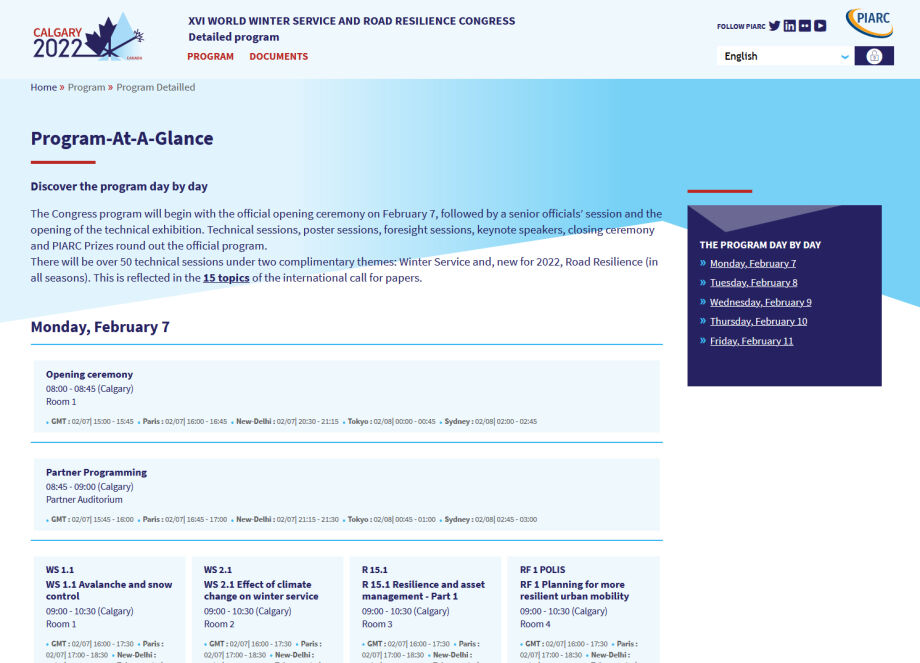 The Congress program will begin with the official opening ceremony on February 7, followed by a senior officials' session and the opening of the technical exhibition. Technical sessions, poster sessions, foresight sessions, keynote speakers, closing ceremony and PIARC Prizes round out the official program.
There you will find:
the Congress programme, including the technical programme,
individual communications selected by the Technical Committees and Task Forces from among the proposals received following the call for communications.
More than 60 Technical, Foresight and Poster Sessions around the main themes of the congress: winter maintenance and resilience (in all seasons), an exhibition, networking events, and much more!
An extensive programme that tackles topics such as new technologies and methods in winter service, the effect of climate change on winter service, and resilience through asset management and security, and many more.
To access all the papers presented, you must be registered for the Congress.

---
---
PIARC's next congress will be the XVIth edition of the International Winter Road Congress, which we organise together with Transport Canada and the City of Calgary.
Decision-makers, technical experts, road authorities and managers, operators, equipment manufacturers and engineers, and academics are all invited to participate in this exciting Congress.
PIARC's congresses have been successful over the years due to their inclusiveness. Unfortunately, it became apparent to PIARC, Transport Canada and the City of Calgary that due to the pandemic - the emergence of variants of Covid-19 that erupt unexpectedly, the uncertainty of vaccine supply around the world, and the associated economic repercussions being felt in nations - the ability to attend an international congress may be reduced for many, if not most, member countries and PIARC's partners/stakeholders.
As a result, a unique virtual platformwill be set up to enable a full event to be held in times of a pandemic. It will be easier and more cost-effective for all countries to take part in the Congress since authors and delegates will not need to cover transportation and accommodation expenses.
Although it is going digital because of the current pandemic situation, the main aspects of the XVIth World Congress on Winter Road Service and Road Resilience remain unchanged:
The Congress will address winter service, as in previous editions, as well as road resilience (in all seasons). This is reflected in the 15 topics of the international call for papers.
English, French and Spanish are official languages of the Congress.
The Congress will be of interest to practitioners, road authorities and operators, as well as experts and academia.
---
---
Winter topics will be a major pillar of the Congress: traffic management, pavement conditions, de-icing agents, equipment, information to users, etc.
It will also be more than that. In order to reflect the megatrends that impact the road sector, PIARC has decided, together with our Canadian hosts, to broaden the themes to include resilience. Ensuring the resilience (without seasonal constraints) of roads and of transport services is indeed a priority for our members, who are confronted with deteriorating infrastructure, budget constraints, adverse climate events, and rapidly evolving user expectations.
This is why the 2022 Congress will be relevant for all countries.
The Congress will offer, through a unique virtual platform, many sessions, a ministers' meeting, an exhibition.
For more information, you are invited to visit the Congress website: www.piarc-calgary2022.org.
Great success of the call for papers for Calgary 2022!
With over 350 abstracts received from more than 40 countries, the call for papers for the virtual XVI World Winter Service and Road Resilience Congress is a great success.
We thank all authors who submitted papers for their interest in PIARC's work. We have received submissions from practitioners, road authorities, operators, experts, academics... Stay tuned for more information about our Congress in the coming weeks and months!
For this XVIth edition, PIARC has invited for individual contributions on selected topics in order to enrich and broaden the views and work of its Technical Committees and Task Forces.
Contributions were invited on the topics described in the call text. Papers could present case studies, research results and/or practical experience related to the topics of this call.
Papers have been reviewed by the Technical Committees and Task Forces. Papers that are accepted will be published in the Congress proceedings and will provide input into the Congress sessions. All authors of accepted papers will present their work and results at interactive poster sessions. Some outstanding contributions will be selected for an oral presentation during the Congress.
PIARC Prizes 2022
Prizes will be awarded to the best papers among individual contributions as a result of the call for papers. More information will be released on the Congress website later.
The categories for the upcoming XVIth World Winter Service and Road Resilience Congress are as follows:
Winter service
Resilience
Adapting to a Changing World
Young Professionals authors
LMIC authors
Canada, Canada-Quebec, Chile, Spain, the United States, France, Japan, the United Kingdom and Poland also organised a national competition for the best articles.
Contact info@piarc.org for more information.
Calendar
November 23, 2021: Early bird registration fee deadline
December 31, 2021: Regular registration deadline
January 28, 2022: Deadline to pay registration by bank transfer
February 04, 2022: Late registration deadline
07-11 February 2022: XVI World Winter Service and Road Resilience Congress (online)
You can now register for the PIARC XVI World Winter Service and Road Resilience Congress. Early bird registration has been extended till 23 November 2021!
The following registration fees apply for the Congress: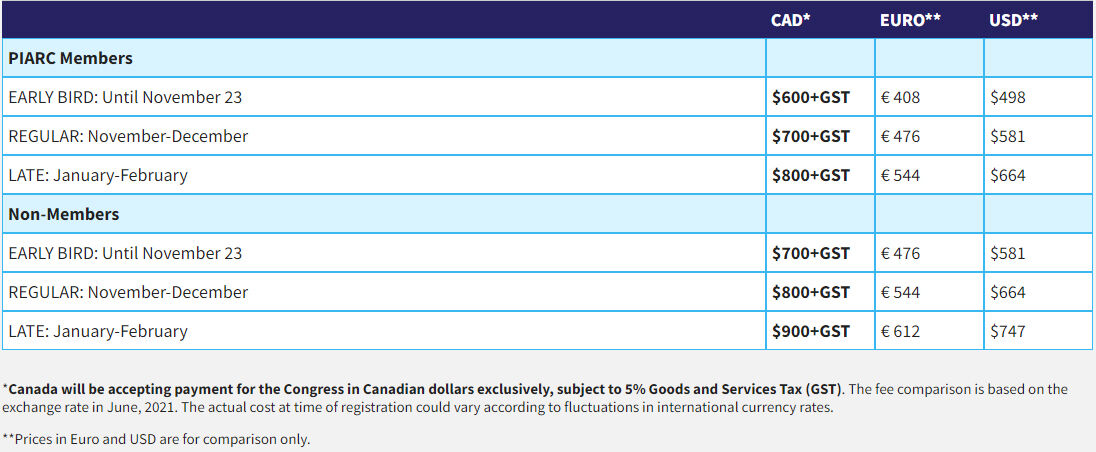 The Congress, which will be held in English, French and Spanish, will provide a platform where social experiences, chats and online meetings will be held. In addition, attendees will find an information zone and an interactive exhibition area. This will be an accessible virtual experience, designed to facilitate the attendance of participants how and from where they want.
The City of Calgary is an exciting business centre and an outstanding meeting and convention destination. As the fourth-largest city in Canada, Calgary has a lot to offer visitors from around the world. In the downtown alone, you can discover over 1,000 shops, 200 restaurants and 50 entertainment spots. Within the city there are also 8,000 hectares of open space and parkland to explore.
As the urban backbone of Western Canada's corporate and financial community, Calgary has come to symbolize rapid growth, enhanced quality of life and a future of unlimited horizons. Within this cosmopolitan small town, delegates and patrons will enjoy Calgary's safe environment, cleanliness and legendary western hospitality. Not to mention the tantalizing array of pre- and post-meeting adventures awaiting you in the spectacular Canadian Rockies, only an hour's drive from the city's centre.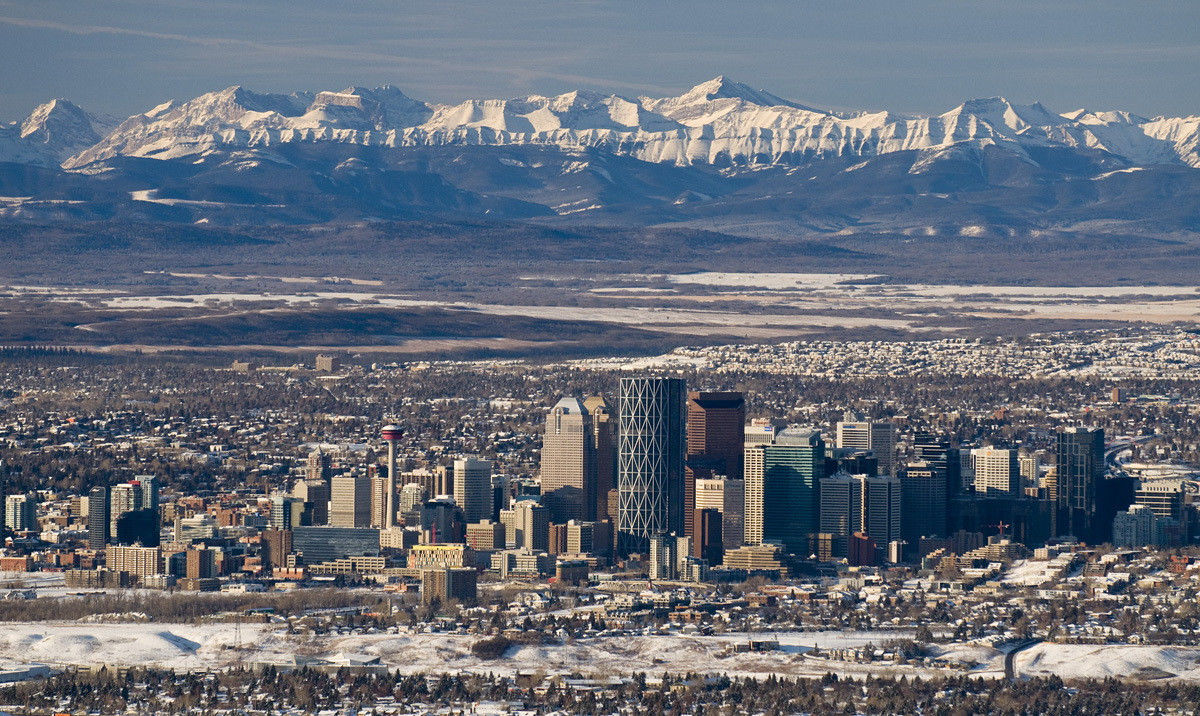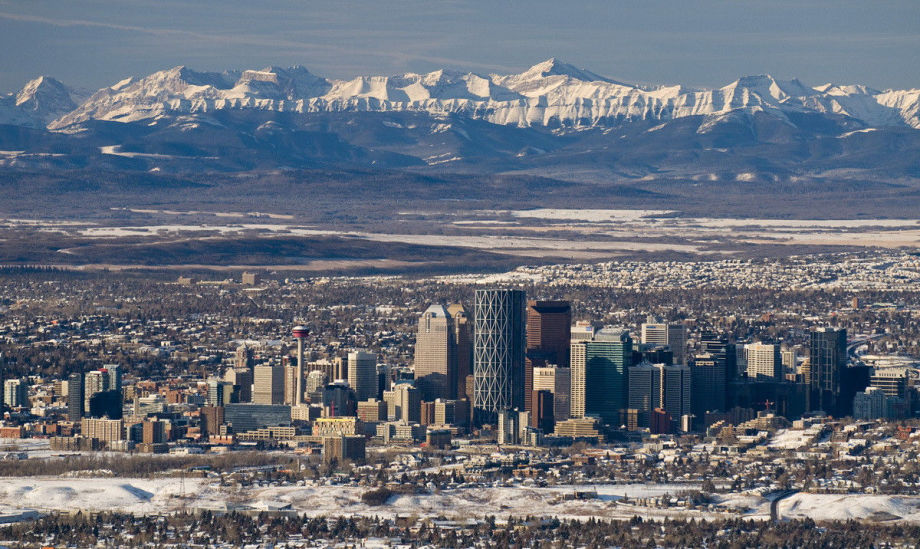 CONTACT - INFORMATION
PIARC (World Road Association)
Mail : info@piarc.org
---
Why Calgary is a resilient city?
---
Winter Service - Four seasons in one day? That's possible in Calgary
---
Calgary in video