The Role of Transport Agencies in Shaping Disruptive Technologies and Service Models - Survey Report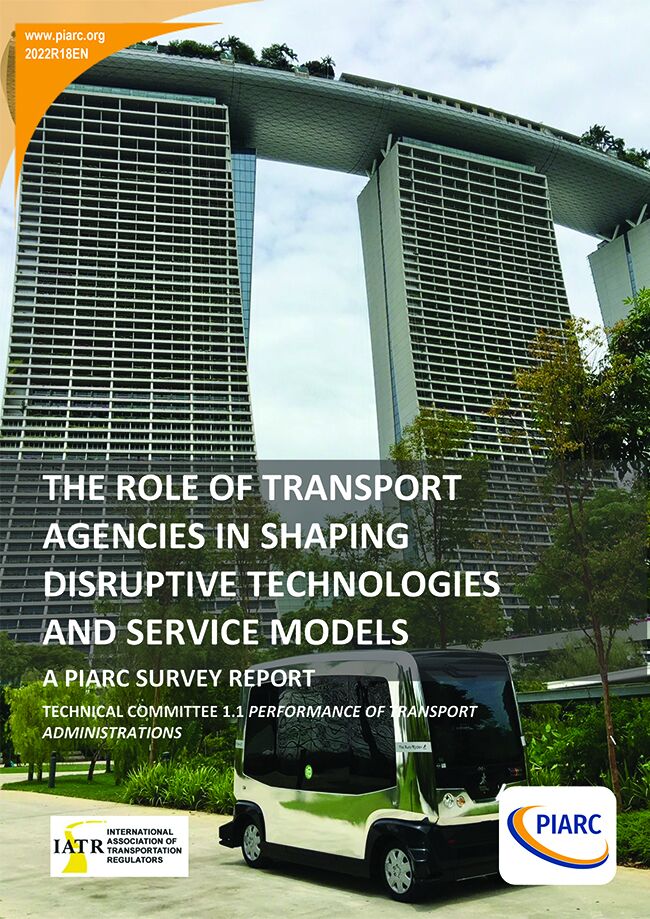 Through its Technical Committee 1.1 Performance of Transport Administrations, PIARC is undertaking an extended investigation of disruptive technologies & service models impacting the roads and transport sector and how transport agencies are responding to the related challenges and opportunities in policy, regulatory and organisational terms.
Key questions being examined by TC 1.1 include:
Which technologies and service models are having the greatest potential impact, in which ways, and over which timescales?
What is the current level of awareness, willingness to respond and leadership across transport agencies and how well-equipped are they to manage disruption and change?
In taking these steps, how are agencies adapting their own organisations, for example through building skills and capacity, changing organisational processes, or recruiting new talent?
What partnerships are emerging, and may be needed, to support technological change?
What guidance, support tools and other actions are needed to improve agencies' capacity to manage change in ways which balance the complex factors at play and deliver public value?
Data collection and analytical methods being used to explore key issues include a literature review, questionnaire surveys, case studies and stakeholder engagement. This Survey Report focuses on one method adopted, an online questionnaire survey of global transport organisations, carried out between 2020 and 2021, which closely tracks the questions listed above.
The survey was developed and implemented by TC 1.1 Working Group 2 in cooperation with, and with active support of, the International Association of Transport Regulators (IATR). It aimed at a range of transport organisations in the public, private and academic sectors. It was disseminated via TC 1.1 Members, PIARC General Secretariat, AASHTO, IATR, IRF (Geneva) and China Highway Transportation Society (CHTS). Outreach included efforts to increase levels of response from LMICs on this topic.
The Survey finds a high level of awareness by transport organisations of disruptive technologies and service models, but mixed states of preparedness and adaptation to take on the challenges raised. Accordingly, many organisations require additional support in key areas to face this agenda moving forward.
The Survey Report is being published as an intermediate deliverable of TC 1.1's work in this area. It is being followed by a range of other deliverables which will be published in due course, including a glossary of key definitions, literature review, detailed case studies and development of concepts and recommendations.
Information sheet
Date: 2022
Author(s): Comité technique 1.1 - Performance des Administrations routières Technical Committee 1.1 - Performance of Road Administrations
Domain(s): Governance of Road Authorities / Road Network Operations
Type: Survey Report
PIARC Ref.: 2022R18EN
ISBN: 978-2-84060-701-4
Number of pages: 65