Road Safety Evaluations Based on Human Factors Method - Technical Report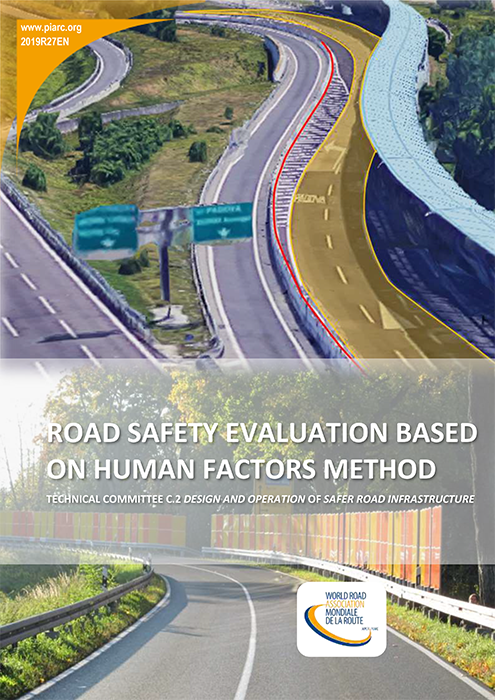 The objective of this report is to instruct responsible road authorities on how to evaluate road safety quality along roads in operation, coupling the well-known reactive approach, based on accident data analysis and high accident concentration sections (or black spots) identification and prioritization, with the pro-active approach, aimed at identifying potentially risky situations before crashes occur. The pro-active approach is a non-accident-based methodology that applies the Human Factors' principles in road design to identify infrastructure deficiencies and select countermeasures in road geometry, equipment and road environment preventing accidents.
By analyzing the current procedures for road Network Safety Management, the report analyses how the proposed pro-active approach can be integrated in the current methodologies for Road Safety Evaluation and explains how to implement it to identify hazardous sections where human factors related deficiencies are present.
In the report:
man-road interactions acting while driving and causing possible operative and maneuver mistakes that can lead to accidents are reminded;
a procedure to perform road safety evaluations taking care of man-road interactions is described;
specifically developed check-lists are presented to assist the technicians in identifying infrastructure's deficiencies during on-site human factors' safety evaluations;
a procedure to assign a safety score to the investigated site is prescribed.
Safety evaluations based on human factor principles require special training activities to form technicians and engineers who can correctly implement the procedure.
The added value of the proposed methodology consists in the possibility to start with the development of the road Network Safety Management process even in situations where reliable accidents and road network characteristics databases are missing or not yet available in operative conditions. Such a possibility affects the starting process to activate road safety improvement plans in countries where a road safety management procedure is not yet fully developed.
The report includes, in the final chapter, selected case studies to exemplify the potential benefits that road safety evaluations based on Human Factors' Method can offer. The presented case studies underline that the nature of the occurring road safety problems vary according to the different road environments and traffic conditions and that the appropriate countermeasure, selected on the basis of the identified human factors' deficiencies, will vary accordingly.
Information sheet
Date: 2019
Author(s): Comité technique / Technical Committee / Comité Técnico C.2 Conception et exploitation d'infrastructures routières plus sûres / Design and Operations of Safer Road Infrastructure / Diseño y Explotación de Infraestructuras de Carreteras más Seguras
Domain(s): Road Safety
Type: Technical Report
PIARC Ref.: 2019R27EN
ISBN: 978-2-84060-561-4
Number of pages: 110