Take part in a webinar on ecology and climate transition of roads in Low and Lower-Middle Income Countries!
29 November 2022
Don't miss this webinar, register now!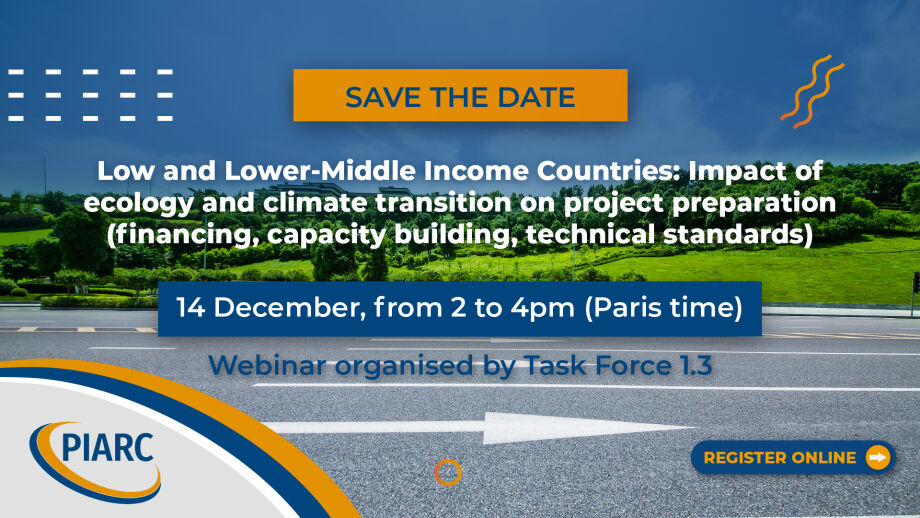 On Wednesday, the 14th of December, will take place the Webinar "Low and Lower-Middle Income Countries – Impact of ecology and climate transition on road project preparation: financing, capacity building, technical standards".
>> Register here <<
Task Force 1.3 "Well-Prepared Projects in Low and Middle-Income Countries" is a follow-up to Task Force 1.1 "Well-Prepared Projects" which produced two reports in 2022. However, participation from low and middle-income countries was very limited.
Thus, this new Study Group 1.3 attempts to fill this gap, focusing in particular on the issues of financing project studies and the role of development banks. The webinar aims to organise a fruitful discussion to gather the experiences of all interested parties.
Practical information
Date: 14 December
Time: From 2 to 4pm (Paris time)
Venue: Online
The link to the webinar is forthcoming. However, you can register by clicking here.
Programme
Introduction to the webinar: Michel DÉMARRE
Chair of Task Force 1.3
"Project preparation in LMICs": Lavagnon IKA, PhD
Full Professor, Project Management / Founding Director - Major Projects Observatory / Telfer School of Management - University of Ottawa
"The Multilateral Development Banks' alignment to the Paris agreement: what does it mean for road projects?": Jean-François MARTEAU (to be confirmed)
Practice Manager - Transport West Africa, World Bank
---
Further information: