Are you an expert in road tunnels? Final days! Submit your 300-word abstract before 10 October 2021!
6th October 2021
Join PIARC for the 2nd International Conference on Road Tunnel Operations and Safety to be held in Granada (Spain) from 25 to 28 October 2022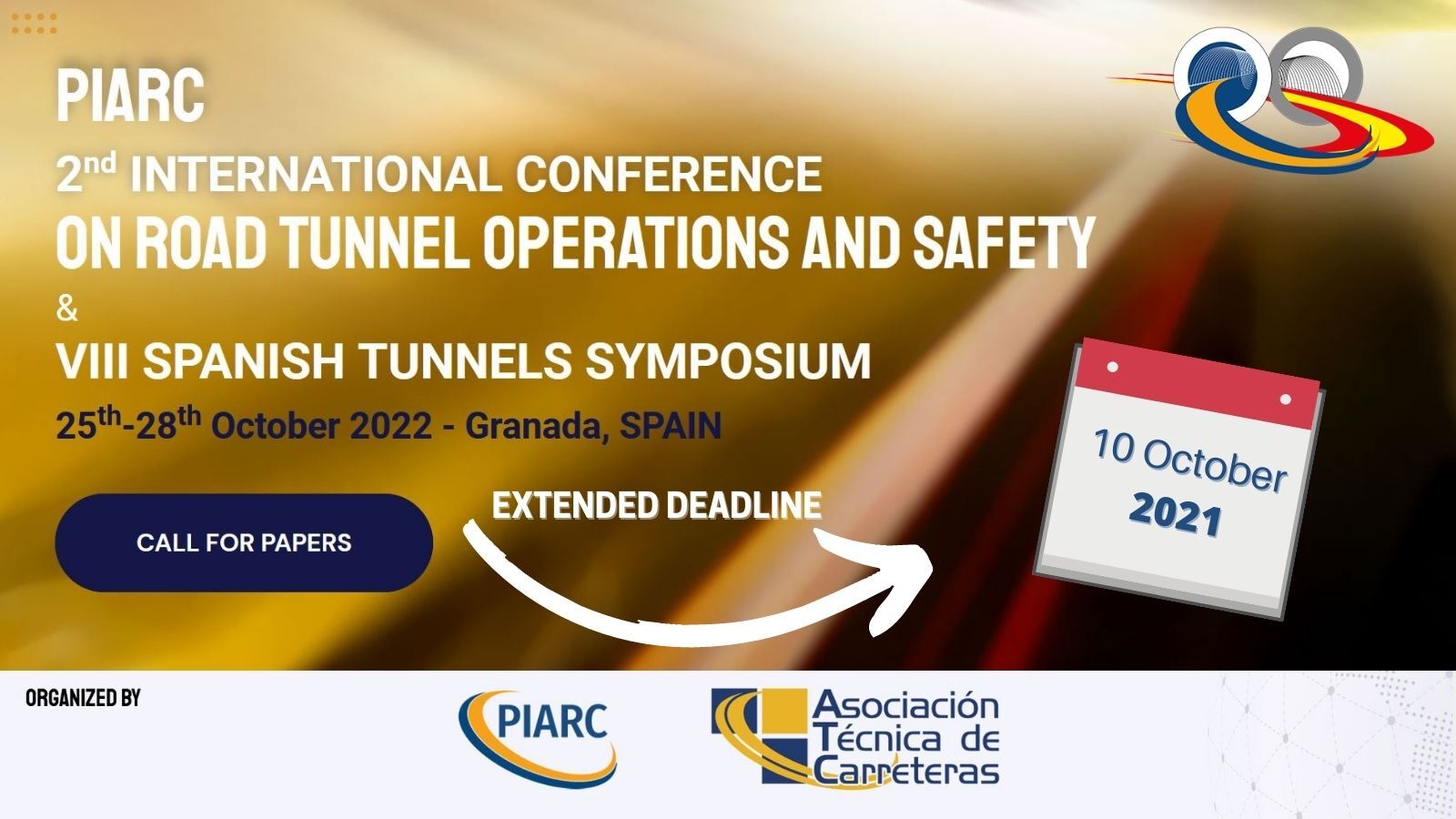 Following the success of the 1st PIARC International Conference on Tunnels held in Lyon, France, in October 2018, PIARC and the Spanish National Committee (ATC) will jointly organize the 2nd International Conference on Tunnels and the VIII Spanish Symposium in Granada (Spain) from 25-28 October 2022. This joint event will bring together the knowledge and exchange of international experiences of PIARC in this matter together with the traditional Spanish symposium organized by the ATC every four years. Nearly 1,000 road tunnel professionals from all over the world are expected to attend and generate a global discussion on the topic.
The call for papers was a success with more than 100 abstracts received to date. However, at PIARC, we are aware of the exceptional situation in which we are currently living. Consequently, we are pleased to announce that the deadline for submitting articles has been extended to October 10, 2021.

All international road and transport experts are invited to submit abstracts in English, French or Spanish.
>> Don't wait any longer and submit your abstract here before 10 October 2021! <<
---
The themes of the conference are as follows:
Resilience in road tunnels​
Management of urban and high traffic road tunnels​
ITS systems and their contribution to improved operations
New vehicle propulsion energies and their impact on tunnels
Risk Analysis
Ventilation and Lighting
Emergency management
Adaptation to the regulations
---
About the abstracts
The official languages will be English, French and Spanish and abstracts can be submitted in any of them. This abstract must have a maximum length of 300 words.
All papers must be original work available to be released for publication. Any reference of a political, commercial or advertising nature must be excluded from the papers. The indication of a brand name should be excluded in the title and in the abstract.
The papers should present case studies, research results and/or practical experience related to the topics of this call.
The abstracts should be submitted on the official website of the event.
The deadline is 10 October 2021.
---
Further information: