«PIARC International Conference on Road Tunnel Operations and Safety», a successful first edition in Lyon
Lyon (France), 3-5 October 2018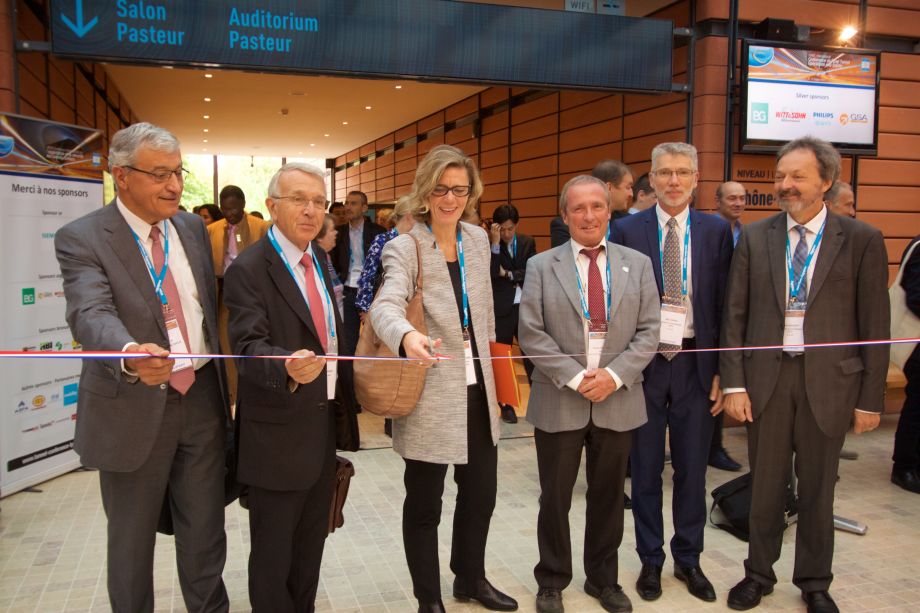 Inauguration of the exhibition (left to right: André Broto, Jean Luc Da Passano, Sandrine Chinzi, Claude Van Rooten, Marc Tesson, Michel Deffayet). ©CETU
In order to promote the latest knowledge on current key issues and to facilitate technical discussions and debate amongst industry stakeholders, PIARC and its French National Committee decided to organise their first "International Conference on Road Tunnel Operations and Safety". This event was organised with the support of the European Commission, ITA COSUF, the French Centre for Tunnel Studies and the French-speaking Working Group of Road Tunnel Operators. It was aimed at tunnel owners, operators, rescue services, designers, tunnel safety officers, equipment suppliers and installers.
The conference took place at the Lyon Convention Centre from 3rd to 5th October 2018 and brought together over 300 participants from more than 40 countries.
The speakers, who came from around the globe, were all renowned specialists in their respective fields. The following topics were notably presented:
Safety management tools and systems,
Sustainable development: societal, environmental and economic issues,
Safe operation of road tunnels,
Safety systems and equipment,
Issues related to the development of Intelligent Transport Systems (ITS) and new propulsion technologies,
Technical equipment - current practices and perspectives.
An exhibition took place in parallel in the heart of the conference area and enabled over 30 equipment suppliers, installers and engineering consultants to showcase their expertise.
The event rounded off with a warm welcome from the operators of iconic tunnels located in Lyon and the Auvergne Rhône Alpes region (Croix Rousse, Lyon-Balbigny motorway, Mont Blanc and Fréjus), within the scope of the organised technical tours.
Throughout these 3 days, the participants expressed their great satisfaction with regard to the exchanges and the quality of the organisation of this international event.
---
The conference in images:
---
Further information: