Register now: 3 June is PIARC's next webinar on the impact of Covid-19 on road projects
18 May 2021
In the upcoming PIARC & Covid-19 webinar, organised with the help of Task Force 1.1 Well-Prepared Projects, the focus lies on the impacts of Covid-19 on road projects. It will be held on 3 June – sign up now!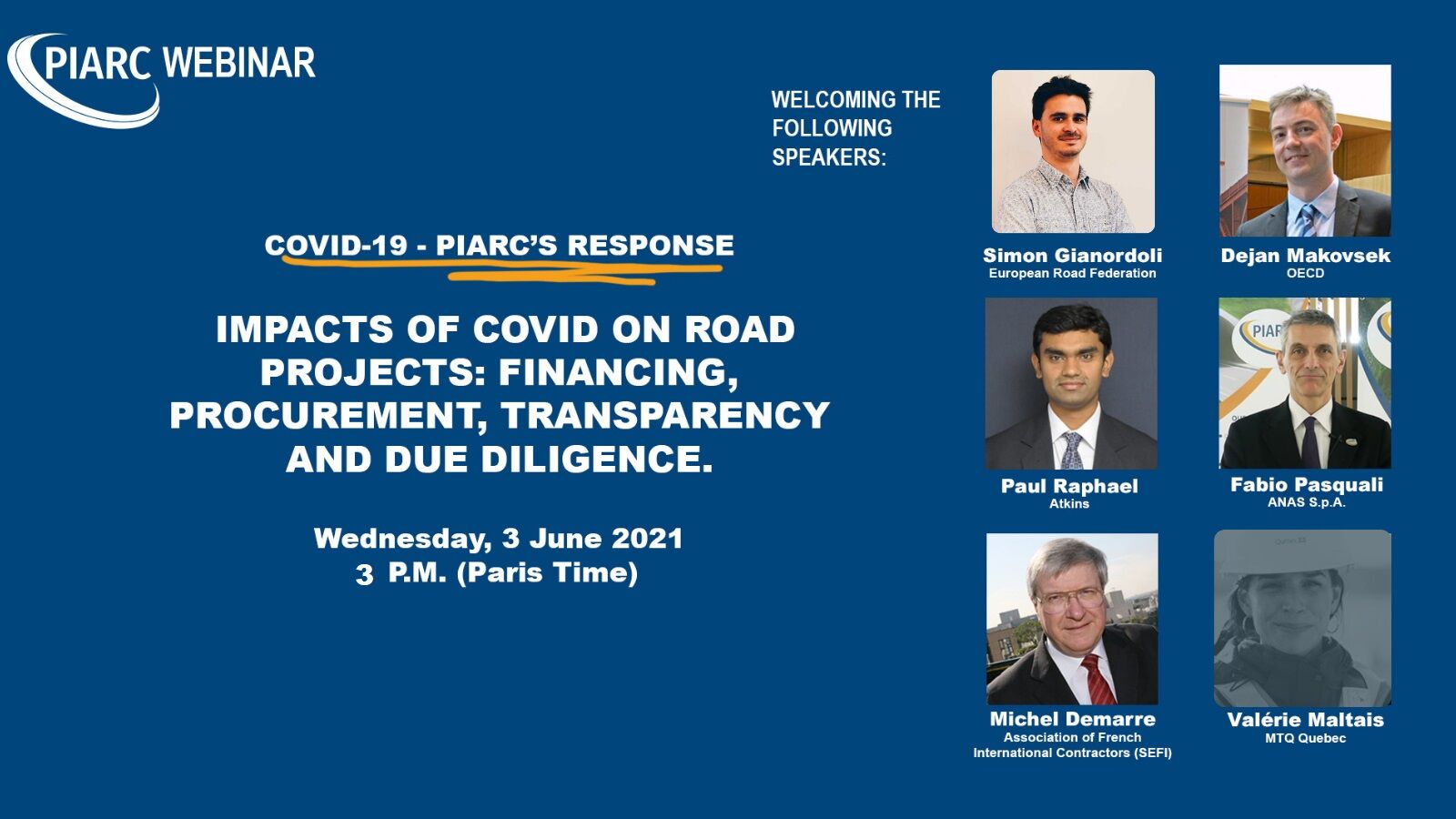 A good preparation of infrastructure projects is of utmost importance to secure their proper financing, wide acceptance and seamless implementation.
The objective of this webinar is to assist policy experts and transportation planners to confidently plan road investments in the post-pandemic world.
This is very topical for several reasons:
Stimulus plans are an important feature of the post-Covid world as far as transport projects are concerned.
Some countries are contemplating acceleration measures to implement faster recovery.
Many low- and middle-income countries are facing additional burdens, mainly related to their limited fiscal space and financing capabilities
Speakers include:
Michel Demarre, Association of French International Contractors (SEFI)
Simon Gianordoli, European Road Federation (ERF)
Dejan Makovsek, OECD
Valérie Maltais, MTQ, Canada-Québec
Paul Raphael, Atkins
Fabio Pasquali, ANAS S.p.A.
This webinar is organized with PIARC Task Force 1.1 on Well-Prepared Projects and will be conducted in English.
How do I register?
Register by clicking on the following link. This webinar is free and open to all. The number of seats is limited, and sessions will be managed on a first-come, first-served basis.
When will it be held?
3 June 2021 at 3 PM (Paris time)
---
COVID-19 - PIARC's response
In an effort to share critical, near real-time information on actions taken by road and transport administrations during this crisis, PIARC is rapidly organizing a series of webinars for practitioners and experts to share their experience, knowledge, and some of the most effective responses to COVID-19. While current practices are not yet fully validated and what works in certain regions of the world may not be valid on a global scale, these shared experiences can be valuable tools in managing this crisis, where a good idea now could save lives, improve the resilience of the economy and employment, and minimize service disruptions now and in the future.
---
Further information: