Discover the full programme of the PIARC Electric Road Systems webinar and register now!
15th February 2021
In this webinar, experts from different countries will gather to discuss Electric Road Systems. The webinar will be held in English on February 17th, 2021.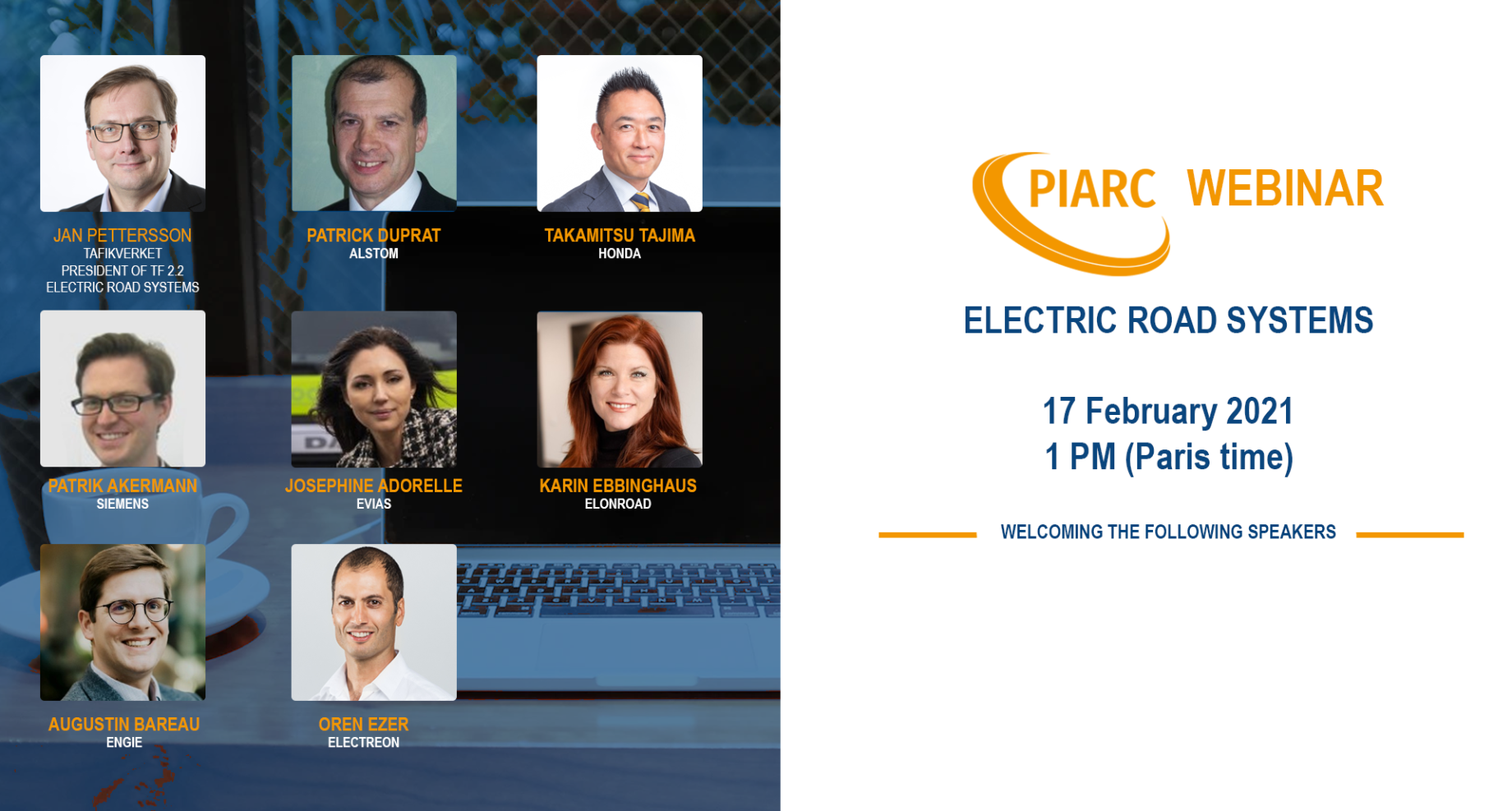 The international Paris Agreement about the climate challenge (UNFCCC) calls for action in every aspect of the modern society. There is a need for decarbonizing transport all over the world both for freight and passengers. The sector is mobilised, and particularly the road transport, which represents more than 75% of global inland transport. Electrification of the road systems will be an important solution and contribution for the states to reach their climate goals in reduction of CO2-emissions. Electric Road Systems ("ERS" - also known as dynamic charging) can be one piece in the puzzle of how to reduce the transport systems' contribution to CO2 emissions.
To promote knowledge within the field of ERS, PIARC (World Road Association) has launched a special Task Force to learn more about ERS, share knowledge between PIARC members, and also try to help PIARC members with guidance about this new and promising field.
PIARC is inviting experts, road operators, road administrations, industry as well as non-governmental organizations for a series of webinars between peers to present and discuss their knowledge and plans regarding electrification with focus on ERS.
This first webinar will address Technology Assessment and it be structured as follows:
A short introduction of PIARC and TF 2.2 framework for the webinar.
A series of presentations by panelists (upon invitation). Each panelist will have the possibility to present for 20 minutes.
A questions and answers long session (around 30 minutes), during which the audience will be able to ask questions and interact after the presentations.
The program is as follows:
12h45-13h00 Joining the webinar, open discussion and greetings

13h00-13h10 Welcome and PIARC institutional presentation - Miguel Caso Florez, PIARC Technical Director
13h10-13h20 Objectives of the webinar and PIARC Electric Road Systems Task Force presentation - Jan Pettersson, Chair of PIARC TF 2.2, Trafikverket, Sweden
13h20-13h40 APS for roads - Patrick Duprat, ERS Solution Manager, Alstom, France
13h40-14h00 High speed and high power conductive ERS - Takamitsu Tajima, Chief Engineer, General Project Leader of ERS, Honda, Japan
14h00-14h20 Electric Roads - Enabling the transition to e-mobility and future transportation needs - Josephine Adorelle, CEO Evias, Sweden
14h20-14h45 Catenary for sustainable heavy road transport - Patrik Akermann, Head of eHighway Business Development, Siemens, Germany & Augustin Bareau, Head of Business Development, Engie, France
14h45-15h05 Transforming the future of mobility with ERS - Karin Ebbinghaus, CEO, Elonroad, Sweden
15h05-15h25 Commercializing wireless ERS - Oren Ezer, CEO and Co-Founder, Electreon, Israel
15h25-15h55 Q&A for all presentations and debate - Speakers and PIARC TF 2.2 representatives
15h55-16h00 Closing of the webinar - Jan Pettersson, Chair of PIARC TF 2.2, Trafikverket, Sweden
The webinar will be held in English.
How do I register?
Register by clicking on the following link. This webinar is free and open to all. The number of seats is limited, and sessions will be managed on a first-come, first-served basis. The presentations and discussions that will be held in the webinars will contribute to PIARC's report which will be published mid 2022.
When will it be held?
February 17th at 1 p.m. (Paris time)
---
Learn more