Webinar: The impact of COVID-19 on women in transport
15th May 2020
On Friday 15th May 2020 at 3:00 pm (Paris Time), join PIARC and the UKAid-funded High Volume Transport Applied Research Programme (HVT) to discuss the impact of COVID-19 on women in transport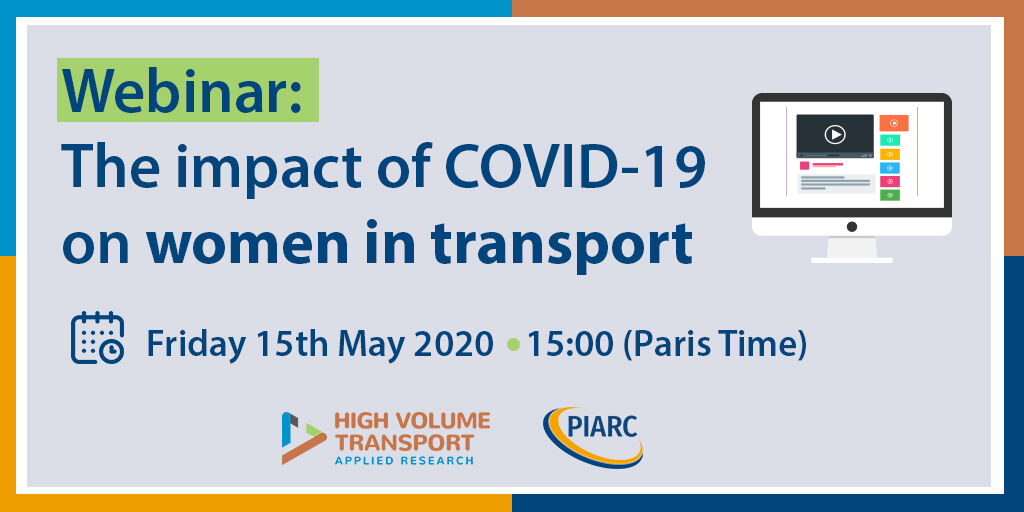 As economies close in response to COVID-19, women face significant risks to their health and livelihoods. In the transport sector, where women are already significantly under-represented, they face precarious and vulnerable employment situations that any COVID-19-related economic crisis will accentuate, in a differentiated way to that facing men in the sector.

Any post-COVID-19 response must recognise these gender differences, involve both men and women in its development and be equitable and inclusive in its impact. This free webinar draws on current experiences from experts around the world working in this field and will draw together thoughts on key issues and useful initiatives in place or planned to address them.
Practical information:
COVID-19: key lessons for the road community from the first PIARC webinars
PIARC has organised a series of Webinars to discuss the multiple and complex impacts of the COVID-19 pandemic for road and transport administrations.
Video recordings and copies of all presentation slides in three languages from the Webinars can be found on PIARC's website.
---
Further information: