Improving the Safety of Road Infrastructures
This International Seminar was organised by PIARC (Technical Committee 3.1) and AGEPAR (Association des Gestionnaires Et Partenaires Africains des Routes), in partnership with the Global Road Safey Partnership GRSPand with the support from ISTED.
The International Seminar took place from 11 to 13 October 2006. The Workshop on 14 and 15 October and the Technical Committee 3.1's meeting on 9 and 10 October.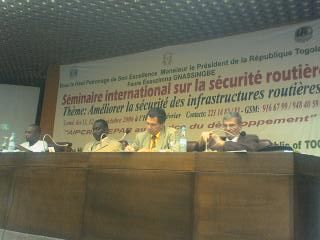 The stand
---
PROCEEDINGS OF SEMINAR
TITLES

PRESENTATIONS

Content of the seminar, T. Idossou (Agepar) and H.J. Vollpracht (Technical Committee 3.1)

General report of the seminar

SESSION 1: KNOWLEDGE OF ROAD ACCIDENTS

Necessity of accident Data for road safety improvements and Methods and examples of road accident Data analysis, J. Mikulik(1) and P. Hollo (2) (Technical Committee 3.1)

English(1) / English (2)

The importance of good accident Data, L. Agustsson (Technical Committee 3.1)

La base de données BAAC, P. Dagoury (ISTED)

Rôle du Bulletin d'Analyse des Accidents de la Circulation dans la sécurisation des infrastructures routières en Afrique : cas du Burkina Faso, A. Nassourou Cisse (Agepar)

Pour une approche spécifique de prise en compte des préoccupations de sécurité routière dans la construction des routes africaines par l'introduction du BAAC : cas du Cameroun, Z. Ngoumbe (Agepar)

Summay of Session 1 (in French)

SESSION 2: ROAD SAFETY INSPECTIONS (RSI) OF EXISTING ROADS

Road safety inspections (RSI guidelines), P. Allan (Technical Committee 3.1)

Road safety inspections in Romania and in Vietnam, H.J. Vollpracht (Technical Committee 3.1)

Traffic safety in Zimbabwe, R. Jokonya (Technical Committee 3.1)

Summary of Session 2 (in French)

SESSION 3: ROAD SAFETY AUDIT (RSA) FOR NEW INFRASTRUCTURE

PIARC road safety Audit Guidelines, L. Fournier (Technical Committee 3.1)

Road safety Audit in Denmark, L. Agustsson (Technical Committee 3.1)

The introduction of road safety Audits in Germany, H.J. Vollpracht (Technical Committee 3.1)

Summary of Session 3 (in French)

SESSION 4: SITE VISITS

SESSION 5: SITE VISIT REPORTS

Diagnostic global de sécurité routière au Togo, M. Fatonzoun

Cas des points noirs de la ville de Lomé, K. M'Badia Nambang

Epidémiologie des accidents de la route au Togo, A. Dossim

Global road safety partnership, P. Elsenaar (GRSP)

SESSION 6: IMPROVEMENT OF ROAD DESIGN

The 12 axiomes of engineering for safer roads, H.J. Vollpracht (Technical Committee 3.1)

Catalogue of "good" and "bad" examples, M. Greenhalgh (Technical Committee 3.1)

Problématique de la sécurité routière au Burundi, V. Narakwiye

Coming next

La prise en compte de la sécurité routière dans la conception des infrastructures routières au Togo, A.S. Guedehoussou et K. Gbati (Agepar)

Summary of Session 6 (in French)

SESSION 7: THE NEEDS OF VULNERABLE ROAD USERS

Circulation des piétons et des deux roues : cas du Cameroun, M. Bekolo (Agepar)

Pedestrians safety, L. Fournier (Technical Committee 3.1)

Adequate road facilities for pedestrians and cyclists in Belgium and The Netherlands, A. Rouffaert and P. Van Vliet (Technical Committee 3.1)

Summary of Session 7 (in French)

SESSION 8: THE PIARC ROAD SAFETY MANUAL

Le manuel AIPCR de sécurité routière, C. Belanger

La dimension de la sécurité routière dans la conception, la construction et l'exploitation des infrastructures routières, I. Zebret (Agepar)

La prise en compte de l'aspect sécurité routière dans la conception et l'amélioration des infrastructures routières, F. Happi (Agepar)

L'utilité d'un carrefour giratoire dans la sécurité routière, O. Maïga (Agepar)

Summary of Session 8 (in French)

SESSION 9: LOW COST MEASURES

Low cost countermeasures, P. Allan (Technical Committee 3.1)

Road safety fundamentals, B. Alicandri (Technical Committee 3.1)

La dimension de la sécurité routière dans les Programmes Sectoriels des Transports : cas du Burkina Faso, C. Sawadogo (Agepar)

La dimension de la sécurité routière dans les Programmes Sectoriels des Transports en Afrique : cas du Mali, S. Coulibaly (Agepar)

Summary of Session 9 (in French)
---