There is still time, join our seminar on sustainability and risk management!
Published on 19 January 2023.
Register for the International Seminar "Sustainability and Disaster Management for Roads", organised in Cancun from 8 to 11 February.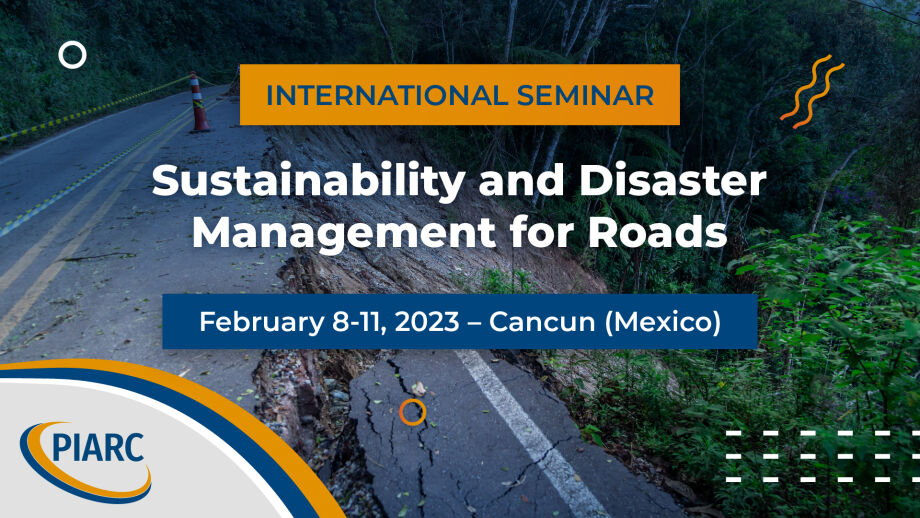 The Mexican Association of Roadway Engineering (AMIVTAC) organises jointly with PIARC a seminar on the theme "Sustainability and Disaster Management for Roads". This international event will take place next month in Cancun, Mexico.
>> Register here <<
Around the world, there is growing awareness of the importance of environmental sustainability, as well as preparedness for unforeseen road events. Particularly in Mexico, this is an issue that significantly affects the development of its infrastructure.
Taking into account the interest shared by PIARC and Mexico, PIARC Technical Committees 1.5 "Disaster Management" and 3.4 "Environmental Sustainability in Road Infrastructure and Transport" with the environmental Technical Committee of AMIVTAC, proposed holding a seminar in Mexico on the matter of sustainability and disaster management.
Practical information
Dates: 8 to 11 February, 2023
Venue: Grand Oasis Hotel - Cancun, Quintana Roo, (Mexico)
Format: Hybrid – in person and online
Languages: English and Spanish, with simultaneous translation
Registration form: click here
By clicking on this announcement, you will find all the necessary information on the programme, registration fees, accommodation options, how to get to the seminar, etc.
---
Further information: