Let's meet in March for an International Seminar on Pavements in Malaysia!
Published on 17 January 2023.
[KLIPS 2023] Attend this seminar, which will take place from 7 to 9 March 2023 in Kuala Lumpur (Malaysia).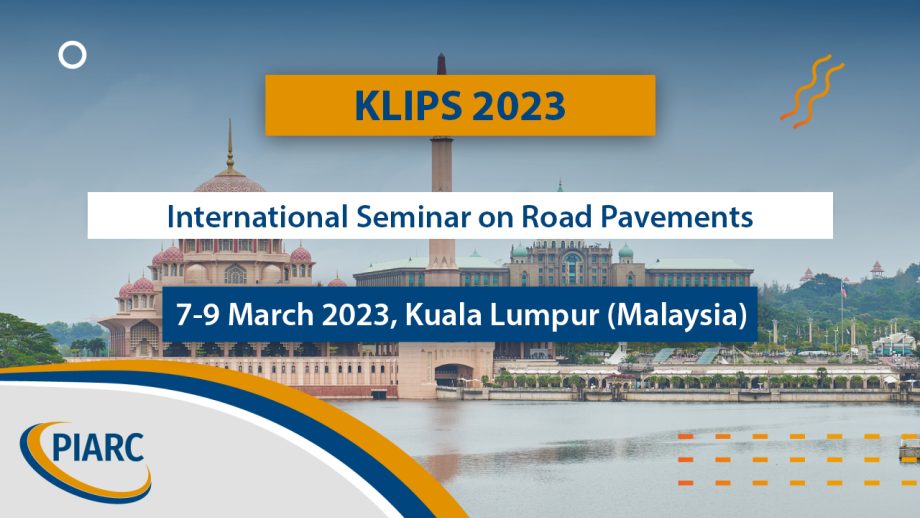 PIARC organises an International Seminar on Pavements (KLIPS 2023), jointly with the Ministry of Works, the Public Works Department and the Road Engineering Association Malaysia (REAM). On the theme "Leveraging Innovation Towards Green Technology and Resilient Pavement", this seminar will be held in Kuala Lumpur, in Malaysia, from 7 to 9 March 2023.
>> Register here <<
Organised in conjunction with PIARC Technical Committee 4.1 "Pavements" Meeting, the main objectives of the seminar are:
To promote the transfer of knowledge and experience, both locally and internationally, on the design, construction and maintenance of pavement using new technologies (method and material),
To provide a platform for discussion with international experts on new technology development in pavement engineering,
To contribute towards overall improvement of pavement engineering.
In parallel to the seminar, an exhibition will take place. Road Industry Entrepreneurs are invited to participate, which will enable them to reinforce their respective organisation's role as a leader by showcasing their expertise, products and services and innovative outcomes to an interested, relevant, and influential audience
Practical information
Dates: 7 to 9 March 2023
Venue: Connexion Conference & Event Centre - CCEC, Kuala Lumpur (Malaysia)
Registration form: click here
By clicking on this announcement, you will find all the necessary information on the programme, registration fees, accommodation options, how to get to the seminar, etc.
---
Further information: