Technical Committee 2.4 invites you to answer a survey on Intelligent Transport Systems
13 October 2022
In order to contribute to our Technical Committees' researches, please answer the survey on Road Network Operations and Intelligent Transport Systems Manual.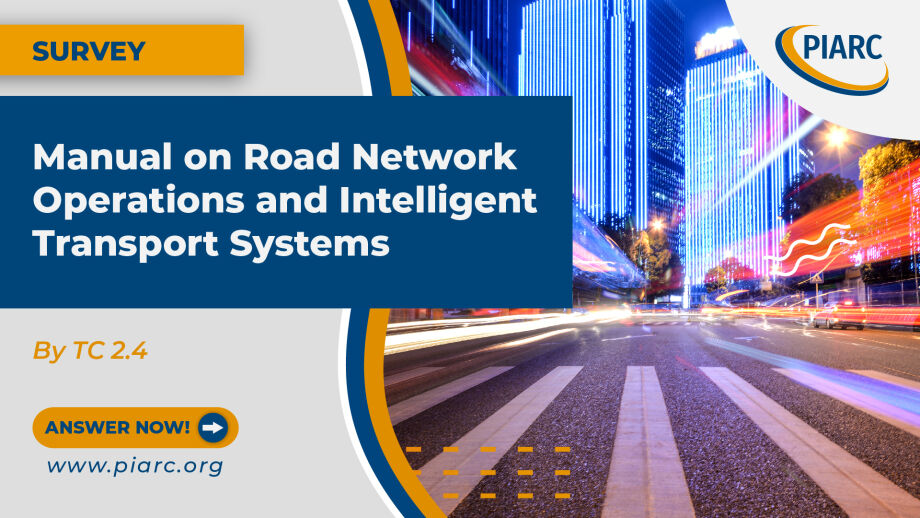 For over twenty years, PIARC has provided transport practitioners with a handy guide to Road Network Operations and Intelligent Transport Systems (RNO-ITS). At first in book form and latterly online, it is now time for an update of the resource.
>> Answer the survey by October,31st <<
Technical Committee 2.4 "Road Network Operation / Intelligent Transportation Systems" asks for your help in informing the updating process, by completing this quick and simple questionnaire. We want to know what type of information would be useful to you, how you are likely to use it, and in what format and language you prefer it.
We want to hear from everybody who is using ITS, who plans to use ITS in the near future, or who intends to implement ITS solutions when resources allow. The RNO-ITS resource must be useful also to those with no or little experience in working with ITS, so if that is you, please let us have your views!
Need help or advice?
Please contact Jennie Martin: jmartin@its-uk.org.uk
---
Further information: