Huge success of the call for papers for the World Road Congress 2023!
23 September 2022
Start preparing your article now!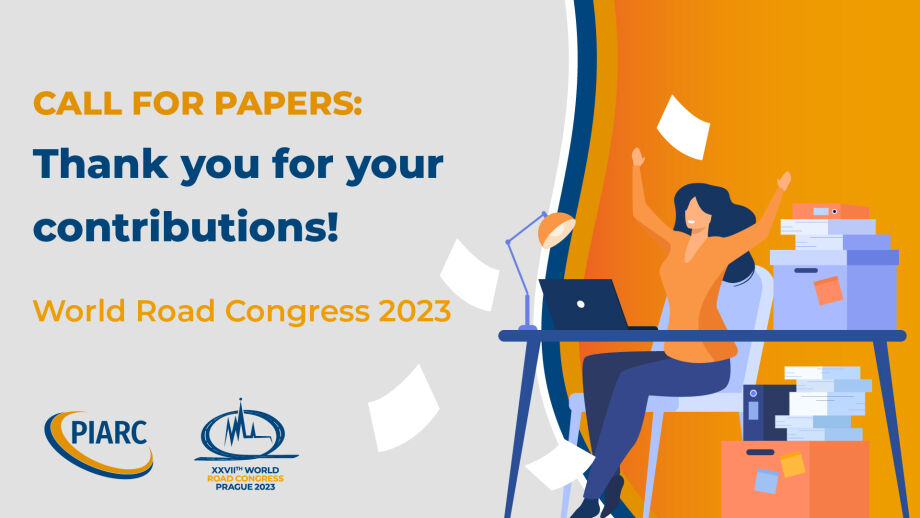 In May 2022, we launched a call for papers for the next World Road Congress to be held in Prague, Czech Republic, from 2 to 6 October 2023. The call for papers closed on 15 September and we are delighted with the number of contributions received!
In total, we collected 740 abstracts with participation from about 80 countries! Special congratulations and thanks go to the Czech Republic for submitting over 80 abstracts, followed closely by Japan, France, Spain and Italy. We are also pleased to have received so many contributions from Indonesia, Ivory Coast, Colombia, Iran and Burkina Faso. These results highlight the general interest of experts from all over the world in the 49 very diverse topics of the call, and undoubtedly promise some very interesting technical sessions for the Congress. Save the date for what will certainly be an intense event!
Our Technical Committees and Task Forces are currently reviewing the abstracts received to invite authors to submit their papers. Authors will be notified of the acceptance of their abstracts from 15 November 2022.
Key dates
Notice of acceptance of abstracts: 15th November 2022
Deadline for authors to submit full text of papers: 31st January 2023
Notice of review of papers: 15th May 2023
XXVII World Road Congress - Prague 2023: 2 - 6th October 2023
PIARC Prizes 2023
Prizes will be awarded to the best papers among individual contributions.
The following are the Prize categories for our 2023 Congress:
Young professionals (under 35 years of age)
Authors from LMICs (low and lower-middle income economies)
Road design, construction, maintenance and operation
Road Safety
Climate Change and Resilience
Sustainable mobility
Best innovation
Organisation and Administration
---
Further information: