Discover the BIM system at an International Seminar in Mexico in October 2022!
9 September 2022
Register for a Seminar on the "Implementation of BIM in Road Asset Management".
PIARC Technical Committee 3.3 "Asset Management" and the Mexican Association of Roadway Engineering (AMIVTAC) are co-organising a seminar on the "Implementation of BIM in Road Asset Management", which will take place in a hybrid format, in person in Mexico City (Mexico) and online, from 10 to 13 October 2022.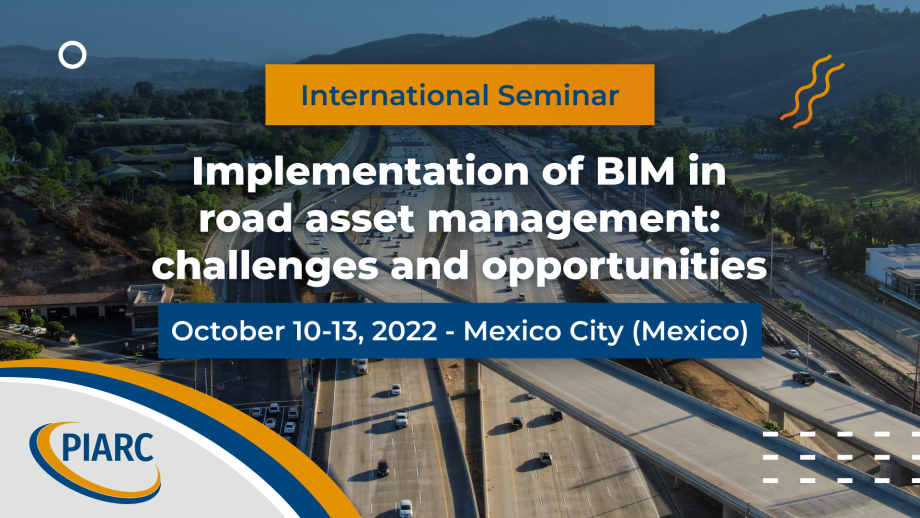 In 2019, the Mexican government published its Strategy for the Implementation of Building Information Modeling in Mexico, which contemplates the adoption of a BIM-based scheme, over a period of eight years, to "improve public infrastructure development processes" by increasing planning efficiency, reducing delays and cost overruns, and strengthening transparency and accountability. These topics are also addressed by PIARC International Committee 3.3.
Given this shared interest, PIARC and Mexico have decided to organise an international seminar on BIM methodology. The aim of this seminar is to provide a forum for the exchange of knowledge and experience on the possibilities and mechanisms for the application of BIM in the management of road assets, based on the premise that the integration of the two processes takes place throughout the life cycle of the asset.
Practical information
Dates: from 10 to 13 October, 2022
Venue: Royal Hotel Pedregal
Time: from 9:30am to 2:00pm (Mexico City time)
Modality: Hybrid. Mexico City and virtual
Language: English and Spanish
---
Further information: