Participate in the call for papers of the World Road Congress 2023!
19 July 2022
As an expert of road infrastructure and road transport, submit your abstract by August 26, 2022!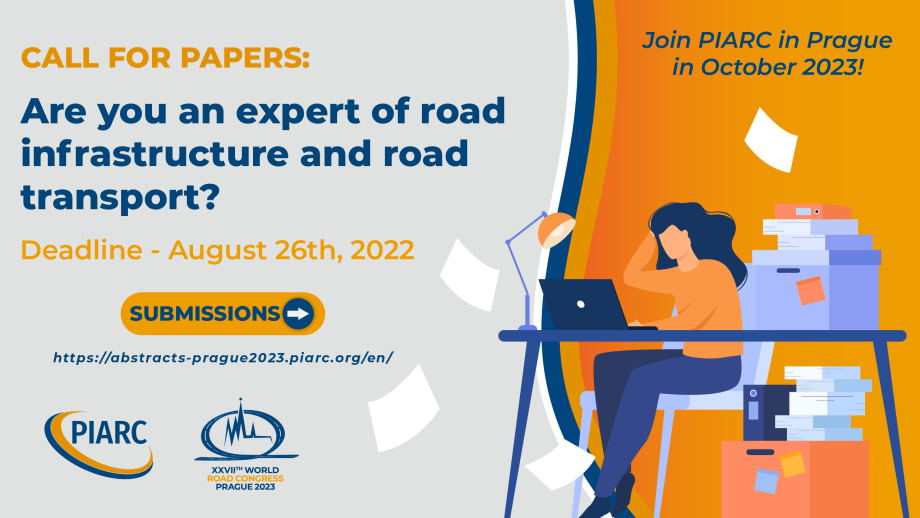 The XXVIIth World Road Congress will take place in Prague in October 2023. PIARC launches a call for papers on 49 topics to contribute to the programme of this Congress, themed "Together on the road again".

All international road and transport experts are invited to submit abstracts in English, French or Spanish.
>> Submit your abstract here by August 26 <<
The abstracts will be reviewed by PIARC Technical Committees and Task Forces and decisions will be notified to authors by 15th November 2022. Authors of accepted abstracts will be invited to submit a full paper before 31st January 2023.
Papers that are accepted will be published in the Congress proceedings and will provide input into the Congress sessions. All authors of accepted papers will present their work and results at interactive poster sessions. Some outstanding contributions will be selected for an oral presentation during the Congress.
The papers should present case studies, research results and/or practical experiences related to the topics of this call.
---
Key dates:
Deadline for authors to submit abstracts: 26th August 2022
Notice of acceptance of abstracts: 15th November 2022
Deadline for authors to submit full text of papers: 31st January 2023
Notice of review of papers: 15th May 2023
XXVII World Road Congress - Prague 2023: 2 - 6th October 2023
PIARC Prizes 2023
Prizes will be awarded to the best papers among individual contributions.
The following are the Prize categories for our 2023 Congress:
Young professionals (under 35 years of age)
Authors from LMICs (low and lower-middle income economies)
Road design, construction, maintenance and operation
Road Safety
Climate Change and Resilience
Sustainable mobility
Best innovation
Organisation and Administration
---
XXVII World Road Congress
The World Road Congress is a world-class event that builds on decades of PIARC experience. It brings together road experts and practitioners from across the globe. This will be the 27th edition of the World Road Congress, which PIARC has organised every four years since 1908.
This Congress represents a unique opportunity to discuss in depth all subjects related to road infrastructures and road transport. The XXVII Congress in 2023 will be held in-person and will mark a new chapter after the peak of the pandemic, which is why this year's theme is « Together on the road again ».
---
Further information