Learn all about road tunnels! Join the World Road Tunnels Seminar to find out the latest results of technical studies and best practices for tunnel operation and safety
23 February 2022
A seminar to discover how technology is key in road tunnel management through the data and experiences of national and international experts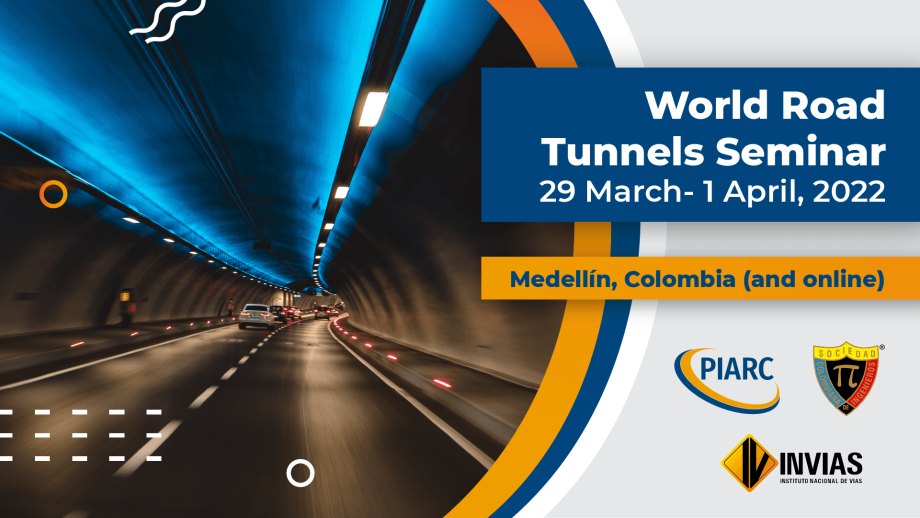 The World Road Tunnels Seminar, organised by the Colombian Society of Engineers (SGI) and the PIARC Technical Committee 4.4 "Tunnels", will take place from 29 March to 1 April in Medellin (Colombia) and online. The event will be attended by the Minister of Transport, Ángela María Orozco Gómez, during the opening and closing sessions, as well as by a large group of international experts. The seminar is aimed at all engineering specialists and those involved in the execution of road tunnelling works.
The focus of the seminar will be on the implementation of technologies in tunnel operation, as well as other tunnel-related content such as regulations, maintenance, safety, structures, among others. To complement the extensive programme of presentations, a technical visit will be held on the last session of the seminar.
The seminar is aimed at professionals from the engineering and construction sectors, suppliers, teachers, researchers, engineering and road students, as well as companies and the general public.
Seminar topics:
CHALLENGES IN TUNNELLING
STANDARDS AND MANUALS
TUNNEL SAFETY
VENTILATION AND SYSTEM INTEGRATION
EQUIPMENT AND SAFETY
OPERATION AND MAINTENANCE
GEOTECHNICS AND CONSTRUCTION
DURABILITY IN UNDERGROUND STRUCTURES
ENVIRONMENT AND SUSTAINABILITY
CONSTRUCTION AND OPERATION DURING THE TUNNEL'S USEFUL LIFE
TUNNEL PROJECT MANAGEMENT
---
Practical information:
Dates: 29 March to 1 April
Place: Plaza Mayor, Medellín Colombia & online
Language: Spanish and English (Simultaneous translation)
Information and fees on the event's website
---
More information: