Building together a more resilient path for 2022!
21st December 2021
PIARC concludes a year marked by cooperation and teamwork, which were key to the success of the numerous activities that we organized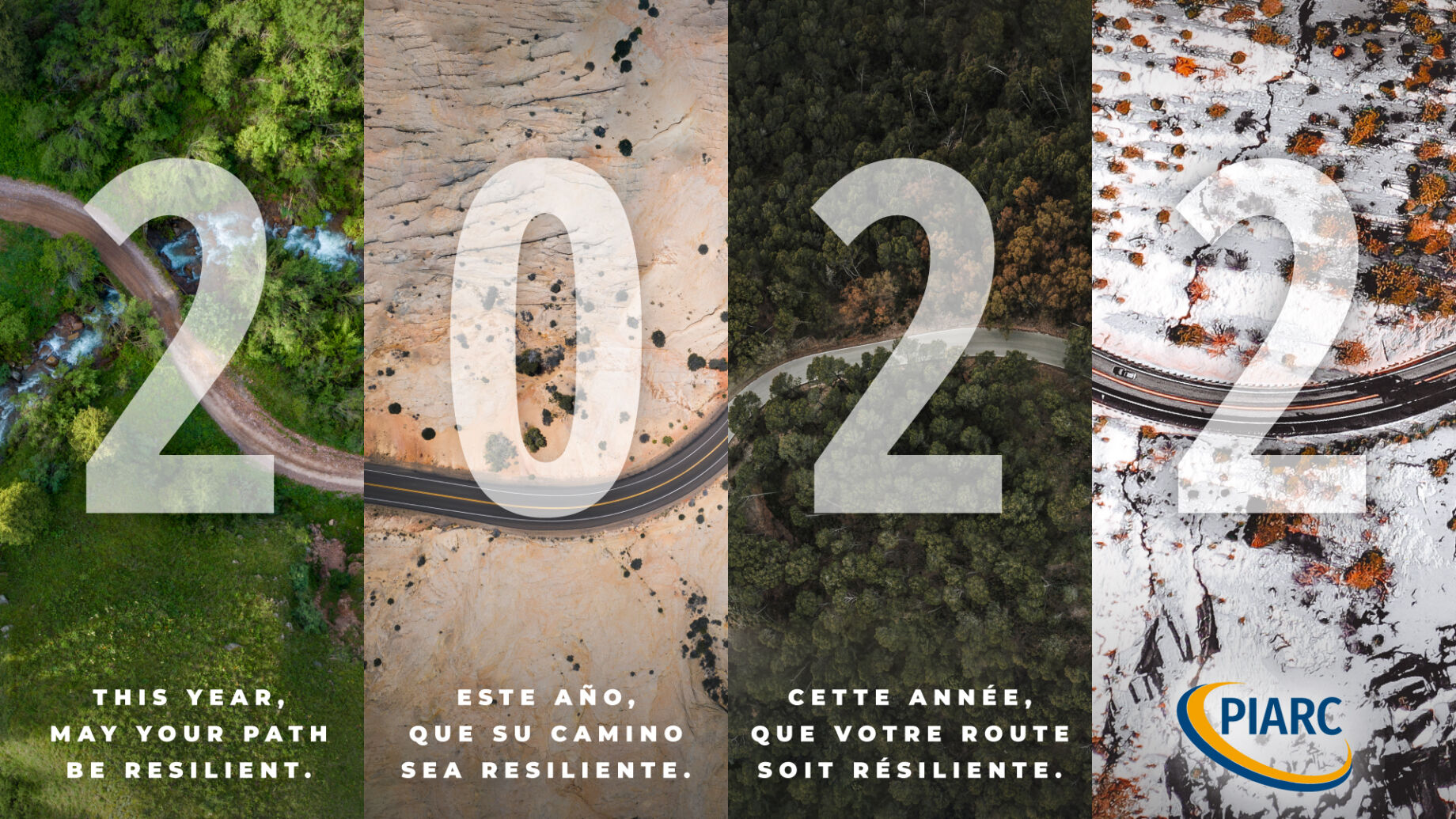 2021 has still been affected by the uncertainty of the evolution of the pandemic. However, this has not prevented PIARC from continuing to work on sharing the knowledge of our experts on roads and road transport through a variety of activities and products.
We are now concluding a year in which we have successfully held more than 25 international seminars, most of them virtual, organized from different parts of the world thanks to a coordinated collaboration between the Technical Committees and our partner countries. We organised virtual events with India on tunnels, with Tunisia on road safety, with Costa Rica on bridge management or with Uganda on the adaptation of roads to climate change, to name but a few. PIARC's COVID-19 Response Team continued to share information on the influence of COVID-19 on roads and the transport sector through a series of virtual events that took place from March 2020 to September 2021 resulting in a total of more than 30 webinars, briefing notes, a specific report and an issue of our "Routes/Roads" magazine that have been published on our website.
Likewise, PIARC's Statutory meetings such as those of the Commissions, Executive Committee, Council, as well as the Mid-Term meetings took place virtually.
In 2022 we will welcome our new President, Nazir Alli, Vice-Presidents and Executive Committee Members, who were appointed after an election held virtually. Also, the Mexican engineer Clemente Poon will join us in the 2022-2024 cycle, as the new representative of the 48 PIARC's National Committees.
For our Technical Committees, 2021 has been a busy year and they have once again shown great dedication and involvement. As a result, 15 technical reports (6 from the cycle 2016 - 2019 and 9 from the ongoing one) have been published and are freely available on our website in English, while many are also in French and Spanish. In addition, a special project on "Smart Roads Classification" have been published and another projects focusing on "Legal weight limits standards and their implications" and "Bridge And Tunnel Strikes By Oversized Vehicles" are nearing completion.
2022 will undoubtedly be special. For the first time, the World Winter Service and Road Resilience Congress will be held virtually. Given the course of the pandemic and the challenge of holding a large-scale event in person, PIARC, together with the organizers of the host country, Canada, have decided to hold the Congress virtually, and it will take place from 7 to 11 February 2022 from Calgary, Canada. It will be a five-day event with a full programme in English, Spanish and French on the two main themes of the Congress: resilience (in all seasons) and winter maintenance. A Congress to attend numerous ministerial sessions, technical sessions, poster presentations, keynote speeches, networking events and virtual tours of the exhibition areas as well as the national pavilions. The virtual mode will enable a greater number of people from all over the world to attend, avoiding the costs and risks of travel. It will bring together experts, companies and organizations to share case studies, best practice, or new research and developments through a virtual exhibition.
After Calgary, also in 2022 it will be the turn of the two world conferences: on tunnels in Granada (Spain) and on pavements in Milan (Italy). And further on, the World Road Congress in Prague (Czech Republic) in 2023, whose call for papers will open in 2022. And then it will be the turn of Chambéry (France), which was chosen as the host city for the XVII Winter Roads and Resilience Congress, which will take place in 2026.
PIARC, together with its more than 1,200 international experts in more than 20 Committees and Task Forces will continue to work in 2022 to further analyse the road sector, to strengthen or create new collaborations with partners, as well as to share their results through the organization of events, seminars and the publication of reports and magazines.
With the end of 2021, PIARC also bids farewell to outgoing President, Claude Van Rooten, after 5 years at the head of the Association. We thank him for his great commitment and dedication to PIARC's projects as well as for his support to the whole team.
You can see his farewell words here:

We wish that in 2022 all our paths will become even more resilient and hopefully we will be able to celebrate together. Our best wishes for the year to come!