Claude Van Rooten stresses the importance of roads as a key element for equality and accessibility during his participation in the Second World Conference on Sustainable Transport organised by the United Nations
15 October 2021, Beijing, China and online
The importance of roads for the development of rural areas, as well as the transformations that the sector is undergoing in order to reduce emissions, were the central themes of a speech in a session entitled "Sustainable transport and regional development".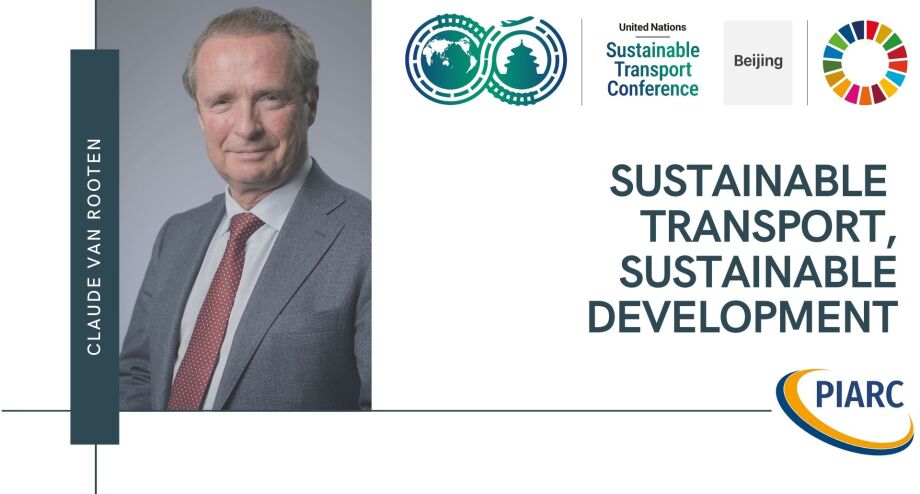 Claude Van Rooten was invited to take part in the Second World Conference on Sustainable Transport organized by the United Nations.
During the session on Sustainable transport and regional development, PIARC's President presented some key elements to a high-level international audience including ministers and decision-makers:
Roads account for about 80% of all inland transport and are the gateway to remote or rural areas. Roads are essential for equity, inclusion and accessibility, and roads are ready to support sustainable, low-carbon developments. Roads are here to stay.
If we want to achieve the SDGs (Sustainable Development Goals) and implement a global decarbonisation strategy, we need to encourage co-modality and multi-modality, learn the lessons of the last two years, listen to the expectations of all transport users, and also continue to include roads in the transport mix.
It is not reasonable to focus exclusively on other modes of transport, to exclude roads from recovery plans, and to reduce road maintenance. Indeed, the needs of users must be met.
For example, vehicles emit 5% less CO2 on well-maintained roads and more on congested roads.
Roads showed their resilience during the COVID crisis, and we are now actively working to build resilience into road transport services and infrastructure. In fact, many transport transformations are underway in the road sector: digitisation, active modes such as cycling and walking, car sharing, public transport, not to mention all the vehicles that use alternative fuels such as electricity, LNG or hydrogen. In practice, the road community is busy continuing to improve the way we design, build, maintain, operate and even transform our roads.
PIARC has 125 member governments and aims to facilitate the exchange of knowledge on roads. We are open to cooperation with all modes of transport. Let us work together to achieve the Sustainable Development Goals.
The United Nations, states and regions should encourage international technical cooperation, as many countries, especially developing countries, often lack highly specialised expertise.
---
Further information: