Discover PIARC's updated Dangerous Goods Risk Assessment in Tunnels (DG-QRAM) software at this next webinar on 23 June
2 June 2021
The upcoming webinar, jointly organised by CETU and PIARC, presents the updates made to the DG-QRAM software for risk assessment of dangerous goods transport through road tunnels and those to come. The webinar will be held in English on Wednesday 23 June 2021 and is free and open to all.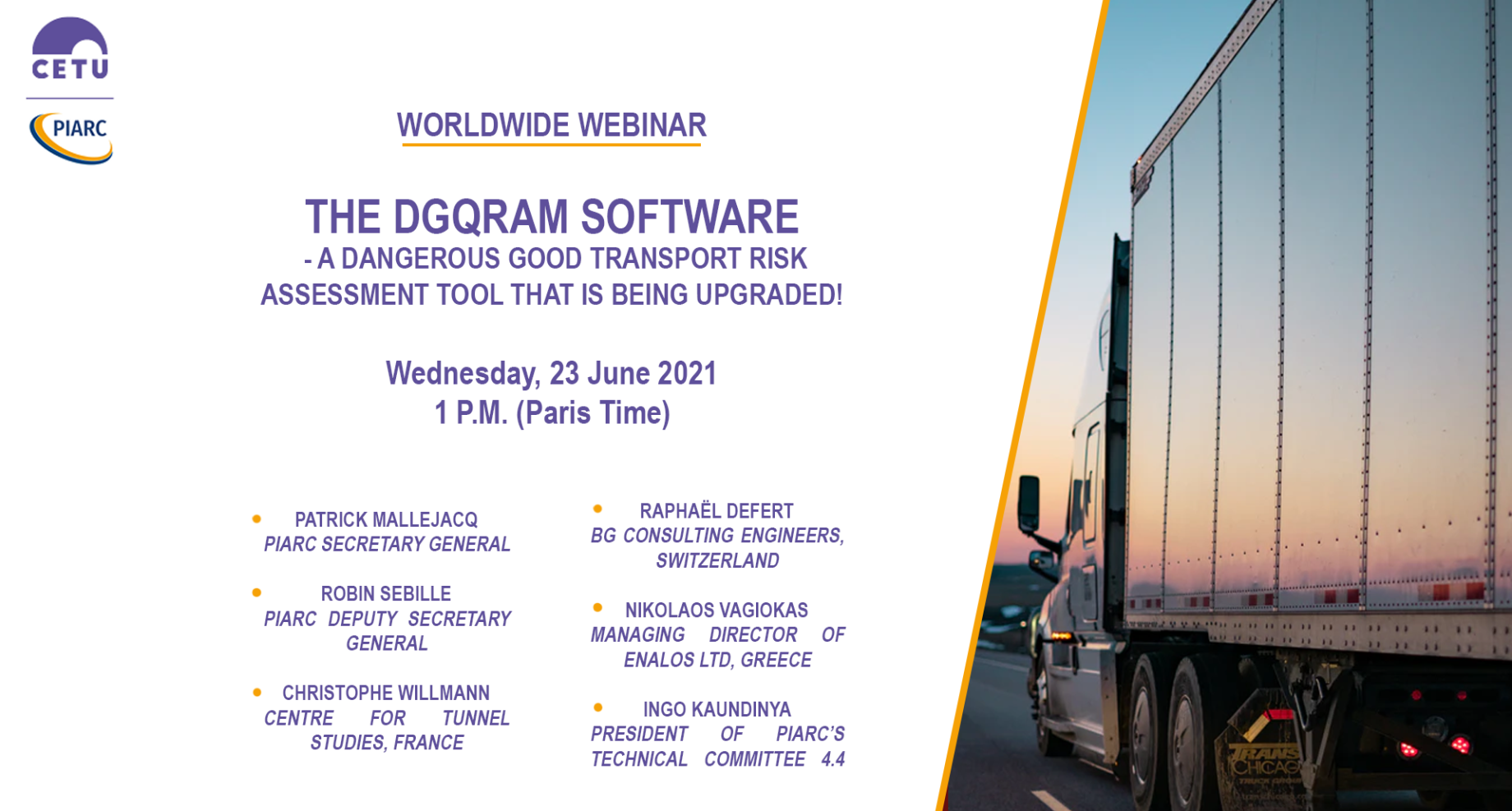 A webinar organized by PIARC and CETU, the French Centre for Tunnels, will be held on June 23, 2021, from 1 pm to 3 pm Paris time, dedicated to Dangerous Goods Risk Assessment in tunnels (DG-QRAM), a software developed by the Association with the support of several European countries. Widely used beyond European boundaries, it is currently being updated and enriched with additional functionalities. Its principles and new features will be presented by the developers of the system. The webinar is free of charge and will be held in English.
Programme
11:00 - 11:10: Welcome
Patrick Mallejacq, PIARC Secretary General
Robin Sebille, PIARC Deputy Secretary General

11:10 - 11:40: What is DG-QRAM?
Christophe Willmann - Centre for Tunnel Studies, France

11:40 - 12:15: Case study
Raphaël Defert - BG Consulting Engineers, Switzerland

12:15 - 12:50: DG-QRAM upgrading
Nikolaos Vagiokas - Managing director of Enalos Ltd, Greece

12:50 - 13:00: Conclusion
Ingo Kaundinya, President of PIARC's Technical Committee 4.4 on Road Tunnel Operations
The webinar will be held in English.
How to join?
Register by clicking on the following link. This webinar is free and open to all. The number of seats is limited, and sessions will be managed on a first-come, first-served basis.
When will it be held?
Wednesday 23 June 2021 at 1 PM (Paris time).
The DG-QRAM software
Incidents involving the spillage of dangerous goods are amongst the most feared in road tunnels. To deal with this issue, a Quantitative Risk Assessment Model (QRAM) to evaluate the risks of dangerous goods transport through road tunnels was developed jointly by PIARC and the Organisation for Economic Cooperation and Development (OECD).
The license price is €1,500 for new buyers, and €1,000 for buyers of the old QRA-3.61 version.
All relevant information and the order form are available on the PIARC website, here.
---
Further information: