Freight transport at the center of the latest issue of PIARC's "Routes/Roads"
28 April 2021
The latest issue of PIARC's magazine "Routes/Roads", created with the help and knowledge of PIARC's Technical Committee 2.3 "Freight" is now available online, in paper version and downloadable as a PDF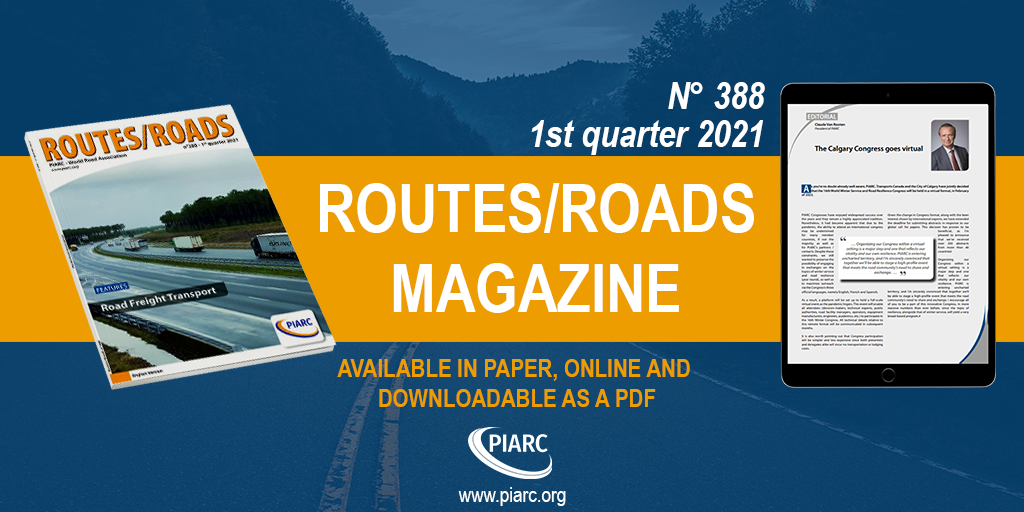 Routes/Roads 388 is devoted to freight transport. This topic, which was highlighted by the Covid-19 crisis, due to the importance of maintaining logistics chains, is illustrated by 7 articles from a wide range of geographical locations, coordinated by the Technical Committee 2.3 "Freight". It also presents the new PIARC Earthworks manual.
---
A new format
Routes/Roads, PIARC's quarterly magazine, has been published since the Association's origins in 1909. It has undergone many changes in its form, its editorial languages, and now its mode of distribution: since March 2021, the magazine is published mainly in electronic format, PDF or HTML. Only the readers who have explicitly expressed their wish to receive a paper version in a questionnaire sent out several times in 2020 by the General Secretariat will continue to do so.
Read the latest Routes/Roads:
---
Further information: