Find out more about the good practices on Road Safety in low- and middle-income countries at the virtual conference on 18-20 May
21st April 2021
PIARC, the Tunisian Road Association (ATR), the Tunisian Ministry of Equipment, Housing and Infrastructure (MEHI), and the National Observatory of Road Safety (ONSR) invite you to the upcoming virtual international conference on Road Safety in Low- and Middle-Income Countries (LMICs), on 18-20 May 2021.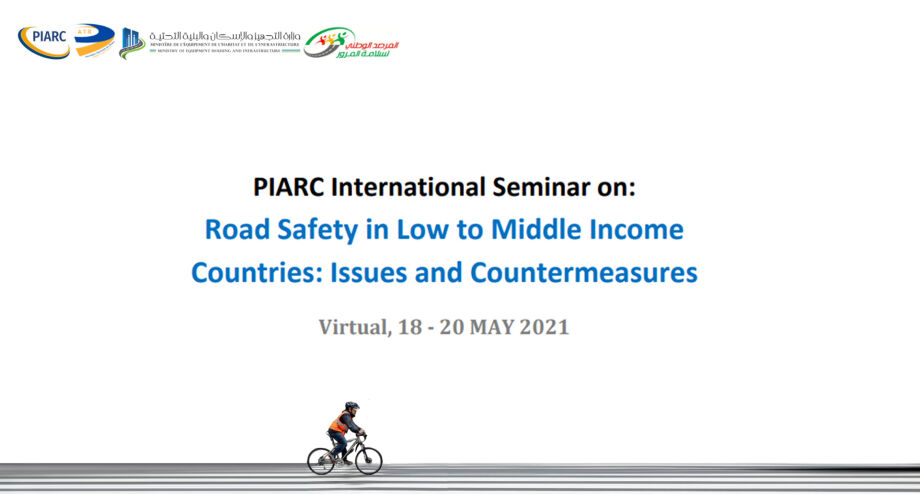 Given the number of deaths and serious injuries in low- to middle-income countries, it is widely accepted that investment in road safety for these countries has a very high cost-benefit ratio. To this end, these countries are encouraged to put in place medium-term strategies to reduce the number of crashes, as the 2nd UN Decade of Action for Road Safety- 2021-2030. With this in mind, this seminar aims to present the necessary recommendations to put in place effective and sound solutions and countermeasures that take into account the specificities of these countries: financial, logistical, user behavior, existing networks, strategies already in place, etc.
The seminar will consist of various thematic sessions on:
Road safety in LMICs and UN Global Targets, Actual Situation and PIARC Works
Road safety statistics, strategy, audits and countermeasures in LMICs
Road safety issues in LMICs
Effective countermeasures
Road Safety and audit manuals and procedures
Recent research in road safety in LMICs
These sessions have been planned for the three days of the seminar. Each session will include several presentations by members of Technical Committee TC3.1 as well as by Tunisian experts and experts from other countries around the world. At the end of the sessions, a roundtable for discussing the different topics covered in the presentations will be carried out.
---
How do I register?
Register by clicking on the following link. The event will be held in French, English and Spanish with simultaneous translation available.
---
When will it be held?
The conference is on 18, 19, and 20 May 2021, from 2PM-6PM (Tunis time)// 5PM-9PM (Paris time).
---
Further information:
---