Learn more about the best practices and technology from around the globe at the upcoming Road Tunnnels international webinar
14 April 2021
The Indian Ministry of Road Transport & Highways and the Indian Road Congress have joined forces with PIARC and the ITA COSUF to organize the international webinar: "Road Tunnel: Recent Trends, Innovations and Way Forward" on 5 and 6 May 2021.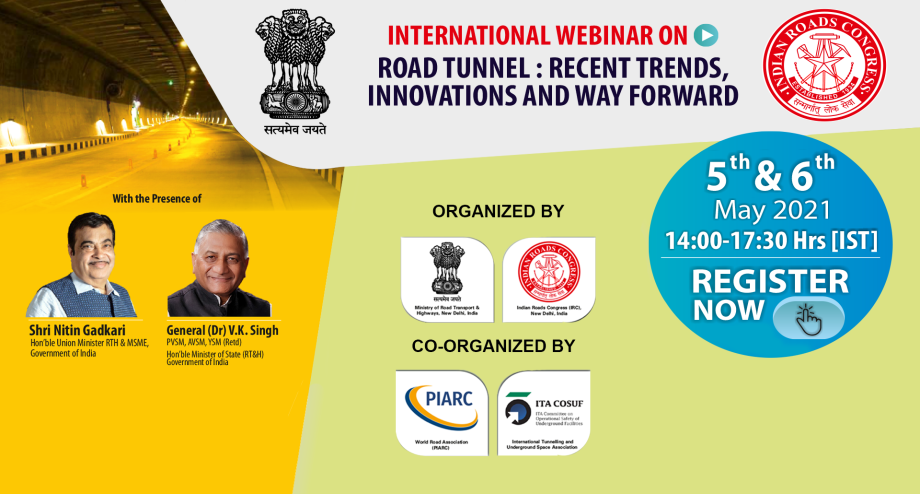 The webinar will provide a common platform to all national/international Stakeholders to discuss and identify the constraints, best available practices/ technology around the globe and to recommend the strategy and action plan to overcome the constraints and enhance the road tunnelling works. Besides the webinar provides an excellent opportunity for practitioners to exchange their views as well as to get the exposure to the challenges, recent trends, innovations best available solutions, practice, in the area of road tunnels.
Road tunnels are very practical alternatives to cross physical obstructions or traverse through physical barriers such as mountains or snow bound areas and also in urban scenario to overcome the problem of RoW availability, congestion, pollution, etc. Road tunnel helps to reduce the distance between two locations, promote tourism & development of that particular area and also a boon against the fight with global warming. Many developed countries have adopted tunnelling as the most feasible option for quite some time. Currently, India is one of the fastest growing markets for tunnels and for Expressways, National Highways and high-density corridors passing through mountain ranges the option of tunnel is generally more viable taking into account overall benefit as compared with conventional hill road. so, there is need to organise international webinar on 'Road Tunnel: Recent Trends & Innovations' for benefit of Highways Professionals, government officers, designers, consultants, researchers, academicians, students & research scholars, material & machinery manufacturers, device Manufactures, etc across the globe.
How do I register?
Register by clicking on the following link. The webinar will be held in English. The webinar is free and open to all.
When will it be held?
The webinar is on 5 and 6 May 2021, from 2PM-5:30PM (Indian Standard Time)/10:30AM-2PM (Paris Time).
---
Learn more