Prepare for the economic recovery in the post-Covid world with PIARC's next webinar!
18th March 2021
New speakers confirmed!
In the upcoming PIARC & COVID-19 webinar on 24 March the focus lies on a post-Covid world and the planning of the economic recovery.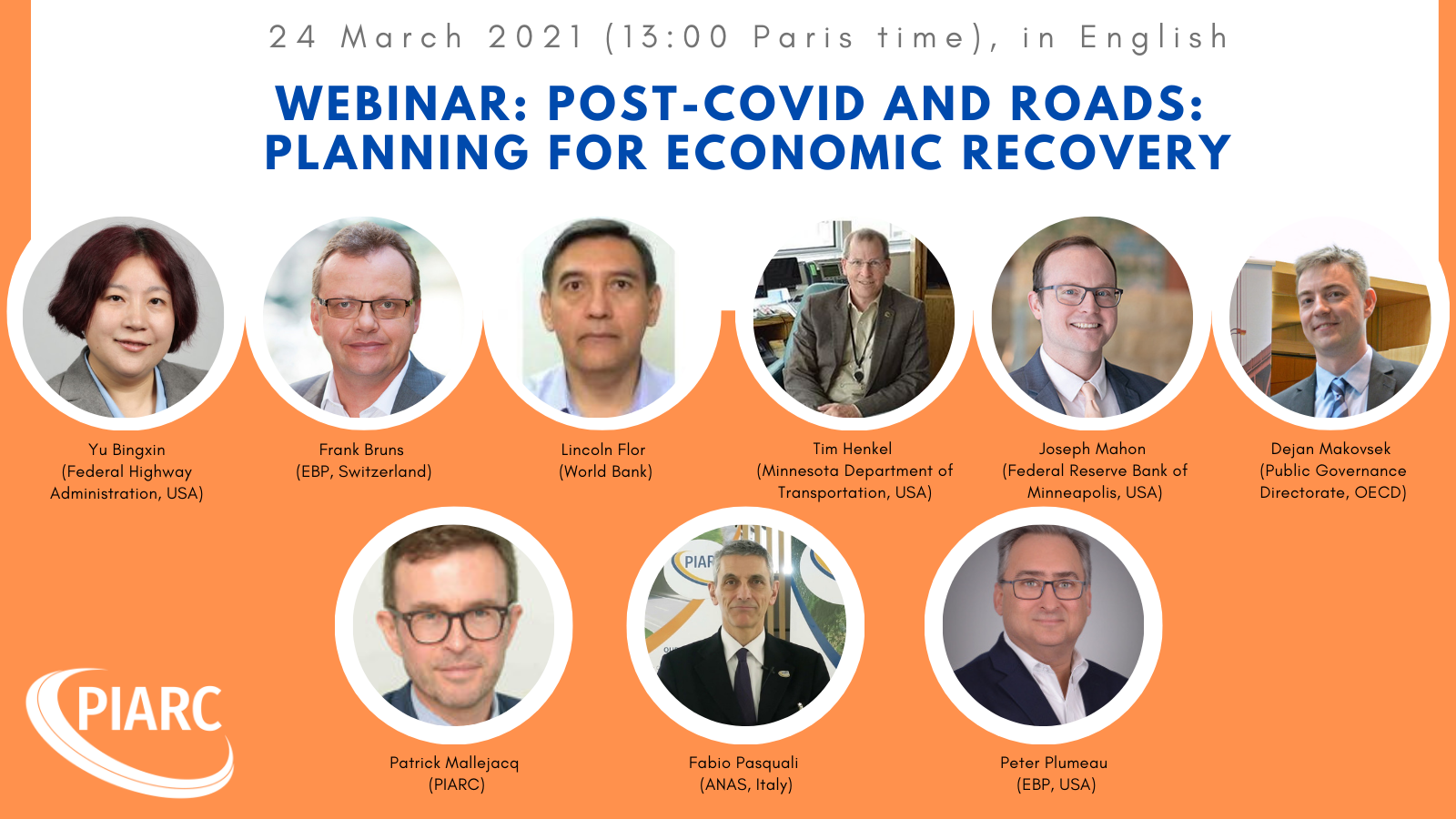 The objective is that this webinar will assist transportation planners to confidently determine the best path to address and manage the needs of the post-pandemic world.
The COVID-19 pandemic has accelerated key trends that directly affect transportation and is presenting transportation and transportation planners with an unprecedented set of new challenges and possibilities. It is clear now that all in the transportation industry are currently and will continue to be challenged to consider the role of transportation in an evolving "new normal" that includes differing views on personal, economic, and societal priorities. It is also clear that the pandemic and associated mitigation policies are affecting travel behavior as well as attitudes. For example, transportation planners are seeing changes that include significant shifts in transportation demand, supply, and performance.
Key topics:
Topic #1 - Transportation Trends and Planning Considerations
Topic #2 - Predicting the Post-COVID-19 World
Topic #3 - "Predicting the Post-COVID-19 Implications on Business and Economic Development in the USA"
Speakers include:
Patrick Malléjacq (PIARC)

Yu Bingxin (Federal Highway Administration, USA)

Lincoln Flor (World Bank)

Frank Bruns (EBP, Switzerland)

Joseph Mahon (Federal Reserve Bank of Minneapolis, USA)

Dejan Makovsek (Public Governance Directorate, OECD)

Tim Henkel (Minnesota Department of Transportation, USA)

Fabio Pasquali (ANAS, Italy) – Chair of PIARC TC 1.2 Planning Road Infrastructure and Transport to

Peter Plumeau (EBP, USA)

The webinar is organized with PIARC Technical Committees 1.1 Performance of Transport Administrations and 1.2 Planning Road Infrastructure and Transport to Economic and Social Development and will be held in English.
How do I register?
Register by clicking on the following link. This webinar is free and open to all. The number of seats is limited, and sessions will be managed on a first-come, first-served basis.
When will it be held?
24 March at 1 p.m. (Paris time)
---
COVID-19 - PIARC's response
In an effort to share critical, near real-time information on actions taken by road and transport administrations during this crisis, PIARC is rapidly organizing a series of webinars for practitioners and experts to share their experience, knowledge, and some of the most effective responses to COVID-19. While current practices are not yet fully validated and what works in certain regions of the world may not be valid on a global scale, these shared experiences can be valuable tools in managing this crisis, where a good idea now could save lives, improve the resilience of the economy and employment, and minimize service disruptions now and in the future.
---
Learn more