COVID-19: Discover the PIARC report on initial impacts and responses to the pandemic from road and transport agencies
23 December 2020
The report from the PIARC COVID-19 Response Team, underlining the strategic and essential value of road transport, has been published.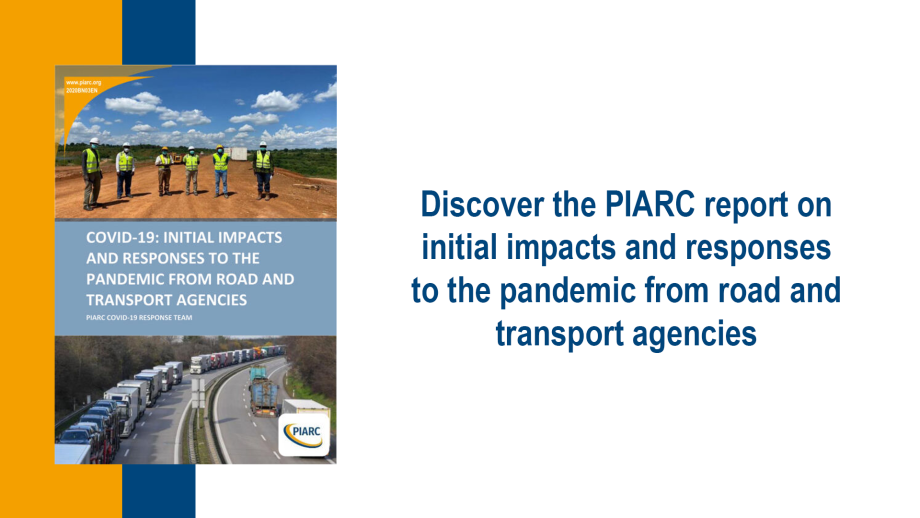 In mid-March 2020, PIARC moved to establish a formal PIARC COVID-19 Response Team to explore the rapid sharing of knowledge and practice between PIARC members in terms of pandemic impacts, associated economic and social crisis and the relevant responses. Activities were rapidly launched focused on an extensive programme of more than 20 webinars, briefing notes, surveys and others.
This Report highlights the programme of PIARC COVID-19 webinars between March and July 2020. It sets out impacts of, and responses to, COVID-19 from the roads and transport sector in the early stages of the pandemic; highlights lessons learnt and recommendations which may be relevant to the remaining period of the pandemic or to subsequent crises which may arise on an equivalent scale; briefly touched on some of the key issues which may be relevant to economic and social recovery from the pandemic in the coming months and years; and sets out possible lessons which might be considered, to PIARC's mission, programmes and operating practices, including within the current 2020 – 2023 Strategic Plan.
A series of implementation actions are also presented. They provide a blueprint for road authorities and operators as well as for PIARC, on PIARC's Response, monitoring the new transport "normal", contributing to economic recovery, continuing collaborations with partner organisations, filling gaps in evaluation, and sharing knowledge.
Unfortunately, infection levels are once again increasing and new pandemic impacts and responses are still emerging. The COVID-19 Response Team is therefore continuing its activities.
The report is only available in English at the moment, the French and Spanish versions will be published shortly.
Learn more: