Take part in PIARC's survey on the Future of Transport!
27th October 2020
This survey is organised by PIARC's Technical Committee 1.1 (Performance of Transport Administrations) and is part of their work during the 2020-2023 cycle. The survey is available in English, French and Spanish, the deadline is December 4th, 2020.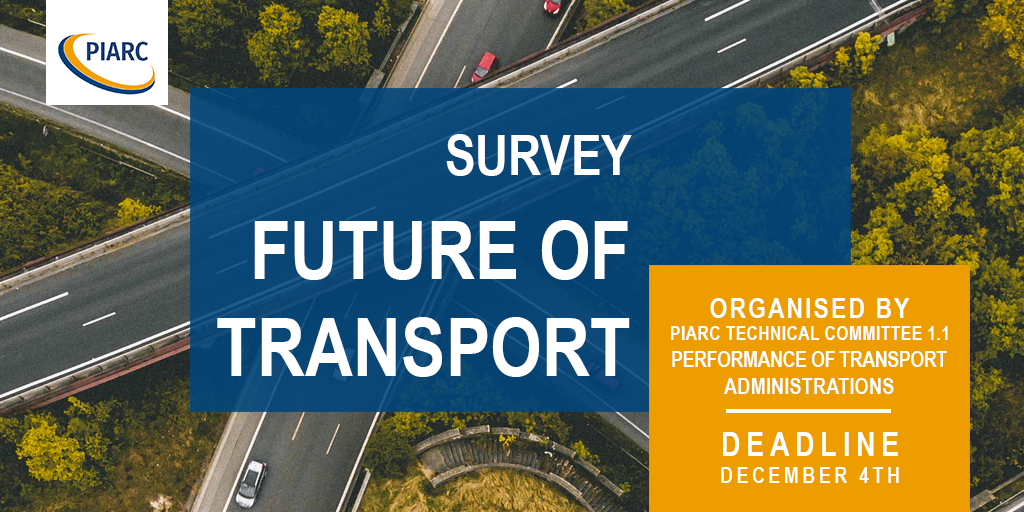 PIARC's Technical Committee 1.1 (Performance of Transport Administrations) is undertaking a research programme into the Role of Transport Agencies in Responding to and Shaping New Transport Technologies and Service Models.
The aim of the programme is to review the development of future transport and mobility concepts such as Connected and Autonomous Vehicles, Mobility as a Service and Micromobility, their impact on the transport sector and how road and transport organisations are responding. This is a rapidly moving area in terms of innovation, but also highly uncertain in terms of public policy, regulatory approaches and required decision making.
The research is part of the Technical Committee's work for the 2020-2023 work cycle and will be published in a technical report, presented at the XXVIIth World Road Congress in Prague (2023). The findings of the programme will contribute to providing guidance for future policy and governance arrangements in this area.
About the survey
This survey is a major contribution to the evidence base, analysis under the research and final recommendations, therefore it should be completed from the perspective of your entire organisation, by the person most knowledgeable and qualified to respond to the subject matter.
The 35 questions have been split into 6 sections as follows:

Section 1 – Organisational Information
Section 2 – Development of New Transport Technologies and Service Models
Section 3 – Organisational Responses to New Transport Technologies and Service Models
Section 4 - Stakeholder Relations in Progressing New Transport Technologies and Service Models
Section 5 – Support Needed to Organisations
Section 6 – Request for Case Studies and Further Information
The ongoing pandemic and the associated economic and social crisis continue to have a major impact on the transport sector, including short-term impacts on new transport technologies; this is the subject of one of the questions. However, the other questions should be answered from a medium-term perspective, reflecting pre-pandemic trends and how these may or may not resume once the crisis is resolved.
Please note you do not necessarily have to present the official and formally adopted policy of your organisation. All the ideas and examples shared will be for illustration only and this will be highlighted in a disclaimer in the report. No names or personal details will be shared with third parties.
It should take no more than 40 minutes of your time. All participants who request it will be provided with a summary version of the final report later in 2020. The survey is automatically saved after every page and can therefore be filled in over more than one session before final submission.
The deadline for submitting Survey responses is Friday, 4th December. The survey is also available in French and Spanish.
---
Further information