Learn more about the impact of COVID-19 on roads during our upcoming webinar in Spanish!
30th September 2020
This PIARC webinar will be held in Spanish next 30th September and will be the first of the new webinar series. It will be followed by webinars in English and French, to be announced shortly.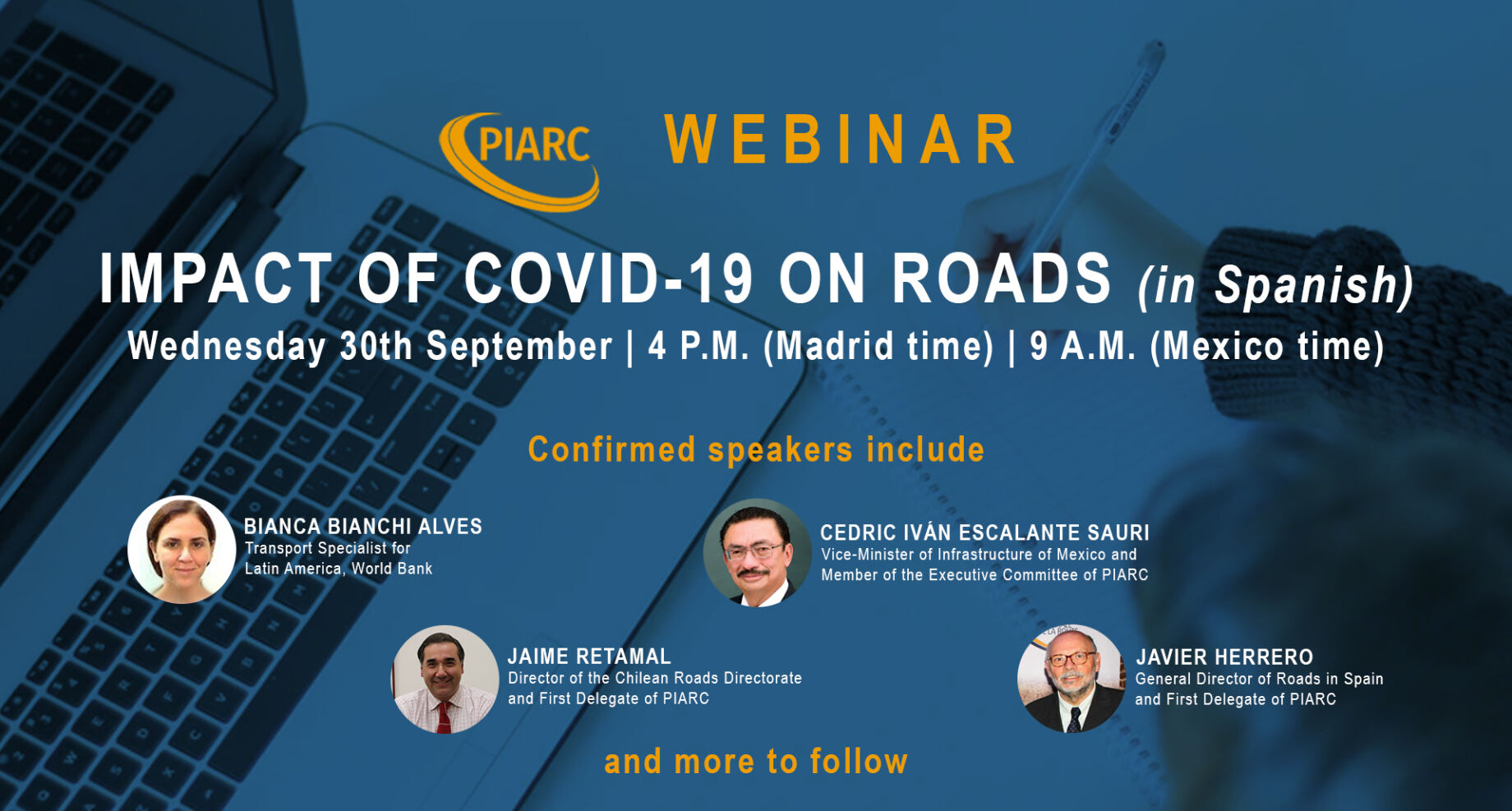 Ministers of Infrastructure and Directors General of Roads from Spanish-speaking countries as well as the World Bank will share their views on the road sector in the context of the pandemic. They will in particular address the role that road infrastructure can play in reviving the economy, generating jobs and improving living conditions in different social sectors.
Among the questions that will be discussed: Will additional resources be mobilized for post-pandemic road infrastructure investment, and will they come from government budgets, foreign borrowing, or private capital through public-private partnerships (PPPs)?
Public road authorities will explain how these investments can meet the objectives of economic recovery and employment generation while improving the challenges faced by the road system: road safety, reduction of carbon footprint, decarbonization of transport, digital transformation and ITS, rural accessibility, mobility, etc.
Speakers include:
Bianca Bianchi Alves, Transport Specialist for Latin America, World Bank
Cedric Iván Escalante Sauri, Vice-Minister of Infrastructure of Mexico and Member of the Executive Committee of PIARC
Jaime Retamal, Director of the Chilean Roads Directorate and First Delegate of PIARC
Javier Herrero, General Director of Roads in Spain and First Delegate of PIARC
How do I register?
Register by clicking on the following link. This webinar is free and open to all. The number of seats is limited, and sessions will be managed on a first-come, first-served basis.
When will it be held?
September 30th at 4 p.m. (Madrid time) / 9 a.m. (Mexico time)
---
Learn more