International Seminar on "Strategic Planning and Performance Monitoring of Road Transport Administrations" to be held in Kyiv
Kyiv (Ukraine), October 22-23 and 26, 2018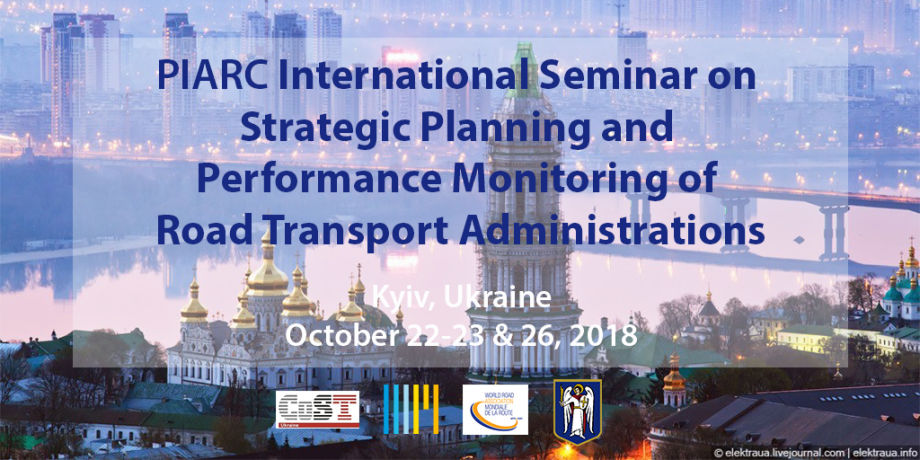 In order to promote the latest knowledge on current road and transport administration performance issues and to facilitate technical discussions and debates between stakeholders in the sector on the subject, the World Road Association (PIARC) Technical Committee A.1 "Performance of Transport Administrations" is organizing an International Seminar on "Strategic Planning and Performance Monitoring of Road Transport Administrations". This event is organised with the support of the Ministry of Infrastructure of Ukraine, Kyiv City State Administration and the Infrastructure Transparency Initiative - CoST Ukraine.The seminar will bring together international experts from around the world, officials from the Ukrainian Ministry of Infrastructure and Kyiv City State Administration, road authorities and organisations from Ukraine and elsewhere, specialists and academics from Ukraine with a particular interest in performance management and governance, as well as the State Road Agency (Ukravtodor) and regional administrations.
The seminar will be held in Ukraine, at the Ministry of Infrastructure and the Column Hall of Kyiv City State Administration, from October 22-23, 2018 with an extra day on October 26th. It will include two days of presentations and Q&A sessions, followed by a day of technical visits on October 26th.
The seminar will provide an opportunity for speakers to address technical and management issues in general around the following points:
Strategic planning in a road sector
Performance management tools
Transparency and integrity in the road sector
Winter maintenance for city conditions
Challenges of effective management of innovative technologies
PIARC Technical Committee A.1 "Performance of Transport Administrations" brings together nearly 50 people worldwide and is very active on the theme of planning, road administration performance measurement and governance. In recent years, it has published several technical reference reports.
The official language of the seminar will be Ukrainian and English with simultaneous translation.
---
Further information: