Malaysia will host PIARC International Seminar on Asset Management within the framework of its 10th International Road Conference
Petaling Jaya (Malaysia), 29-31 October 2018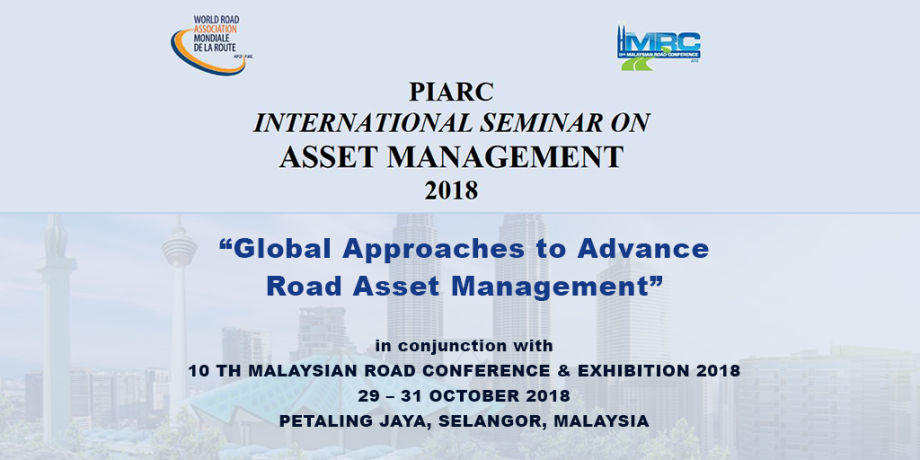 The International Seminar on Asset Management, organised by Technical Committee D.1 (Asset management) of the World Road Association (PIARC), will examine ways to improve the quality and efficiency of road infrastructure through effective management, working alongside users' expectations and government requirements. It will be held during the International Road Conference, which will run from 29 to 31 October in Petaling Jaya (Malaysia).
The following are some of PIARC Technical Committee D.1 speakers who will address the conference: Ricardo Solorio, Research workgroup leader with the Mexican Institute of Transport, will give an overview of PIARC's free online Road Asset Management Manual. Gerardo Flintsch, Director of the Centre for Sustainable Transport Infrastructure (CSTI) at the Virginia Tech Transport Institute (US) will give an overview of what PIARC has been doing in the field of asset management.
Around thirty local and international papers will be discussed at various technical sessions and workshops, and an international expert will deliver one special conference every day. Senior executives and some of the leading private sector road engineers - as well as government civil servants - will present up-to-date, highly relevant and practical information about the increasingly complex road environment.
Road infrastructure is essential for sustainable economic growth and social progress. Road assets are costly, not just to build, but also to maintain at optimum operating level in order to meet the user public's rising aspirations.
Increases in traffic volume, a growing population, an ageing asset base and the ever escalating operating and maintenance costs weigh heavily on the existing road network. Against this backdrop, it is imperative to increase the efficiency and longevity of the existing road infrastructure assets.
---
International Road Conference in Malaysia
Organised jointly by the Public Works Department of Malaysia, the Malaysian Highway Authority and the Road Engineering Association of Malaysia (REAM) and PIARC, this International Road Conference has become the leading national and regional forum for presenting the results of research and for sharing and discussing ideas about cutting-edge technologies for developing, building, managing and maintaining roads and road infrastructure.
---
Further information: