Investigating Unpredicted Infrastructure Failure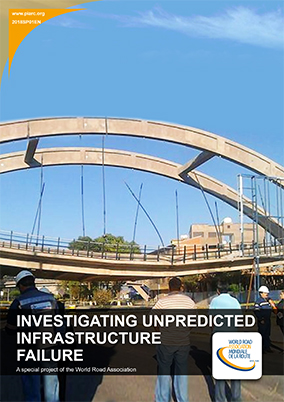 This report is an outcome of PIARC mechanism for Special Projects, which is PIARC instrument to respond quickly to emerging issues for PIARC member countries.
This report provides a review of 15 Unpredicted Infrastructure Failure (UIF) case studies that have been collated from around the world. For the purposes of the report UIF is defined as:
instances where failure1 occurs on an asset that is considered in good condition and is well maintained
The case study data from our interviews and online surveys have been assessed to identify lessons that can be utilised by road administrators when preparing for, responding to and recovering from UIF. Our results and conclusions have been categorised against the incident management cycle which is made up of four key stages; Mitigation, Preparedness, Response and Recovery.
The report has identified that UIF events due to their unpredictable nature should be considered as part of any preparedness arrangements for key road assets. Conclusions have centred around lessons that can be adopted for asset management and inspection, incident preparedness arrangements, the importance of internal and external communications when managing UIF and the impacts for recovery when UIF affects key road assets.
N.B. Failure for UIF can be defined as a closure or collapse of an asset that leads to loss of service, such as a closure of a bridge.
Information sheet
Date : 2018
Author(s) : Rednoa
Domain(s) : Risk Management / Road Network Operations / Road Bridges
PIARC Ref. : 2018SP01
Number of pages : 51