Congestion in urban areas - Examples of counter-measures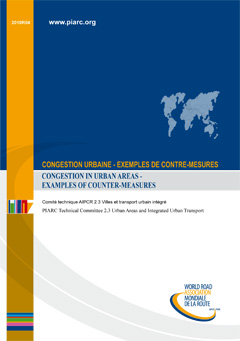 Congestion is a complex phenomenon, influenced by socioeconomic, technical, and human factors.
The report examines twenty case studies and focuses on countermeasures against recurrent congestion on urban roads implemented in various cities. The countermeasures have been characterised by the nature/degree of congestion, the socioeconomic situation of individual regions and cities and the level of development within individual countries, etc.
The study examines traffic and transport policies including land use planning in various countries as well as policies to encourage modal shift through the promotion of public transport, walking and cycling, redistribution of traffic along the road network and utilisation of park and ride facilities.Also presented are examples of infrastructure that has been constructed to improve congestion, through increasing road network capacity, removing bottlenecks and increasing the capacity of the rail network.
Regulatory measures are also examined, including parking policies, congestion pricing schemes, traffic management (e.g. coordination of traffic signals, use of Intelligent Transport Systems) and different use of the capacity of the infrastructure network (e.g. through contra-flow), time management (encouraging greater use of roads in non-peak periods, etc)
Also presented is an overview of an extensive literature review in relation to congestion studies throughout the world.
Information sheet
Date: 2010
Author(s): Comité technique 2.3 Ville et transport urbain intégré / Technical Committee 2.3 Urban Areas and Integrated Urban Transport
Domain(s): Road Network Operations / Urban Mobility
PIARC Ref.: 2010R04EN
ISBN: 2-84060-232-6
Number of pages: 145