Tools for road tunnel safety management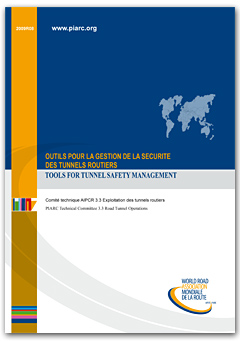 This report is dedicated to the basic tools needed for management and decision support on road tunnel safety issues.
It defines the general demands on tunnel safety documentation, referring to each of the three different stages of a tunnel project: design-construction, commissioning, operation. An overview table and detailed checklists are given.
It deals with collection of incidents and their analysis. The report defines the significance of incidents to be recorded and presents the basic data collection requirements, along with a variety of practical feedback from different countries and recent research projects databases.
The report presents safety inspections as a tool to assess the current tunnel safety level whether within a legal framework or whether against an accepted level of risk. It presents an organisational scheme based on the EU Directive 2004/54/EC. The contents of a safety inspection are given along with a comprehensive roadmap with all the necessary steps and preparation needed to carry out a safety inspection.
Information sheet
Date: 2009
Author(s): Comité technique 3.3 Exploitation des tunnels routiers / Technical Committee 3.3 Road Tunnel Operation
Domain(s): Road Safety / Road Assets Management / Road Tunnel Operations
PIARC Ref.: 2009R08EN
ISBN: 2-84060-228-8
Number of pages: 125