PIARC Catalogue of design safety problems and potential countermeasures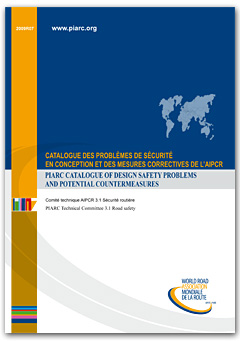 This catalogue presents a set of commonly design errors and suggests a range of measures to overcome them; it also gives an indication of the comparative countermeasure costs to facilitate prioritisation of the work. The catalogue can be used both as a proactive safety tool to ensure the design faults do not arise in the first place, or a reactive safety tool to assist in designing cost-effective countermeasures where problems already exist on the road network.
The situations considered are organized within 8 groups:
Function
Cross Section
Alignment
Intersections
Public and Private Services
Vulnerable Road Users
Traffic Signing and marking
Roadside Features
For each case, a sheet is presented with several illustrations.
Information sheet
Date: 2009
Author(s): Comité technique 3.1 Sécurité routière / Technical Committee 3.1 Road Safety
Domain(s): Road Safety / Design of Inter-urban Roads
PIARC Ref.: 2009R07EN
ISBN: 2-84060-227-X
Number of pages: 169