Overview of winter maintenance contracts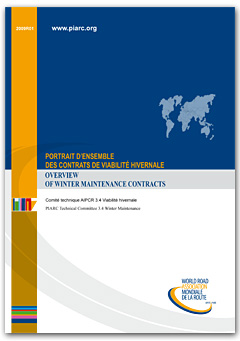 Road transportation has increased considerably in the past few decades and winter maintenance has become a public service activity of vital importance to the economy. Many production activities are organized with reduced inventories and just-in-time policies have developed considerably, resulting in a substantial growth of road transportation. In a society in motion, it is necessary to make passenger and freight traffic transportation when weather conditions are deteriorating and are likely to result in difficult traffic conditions. Meeting the users' needs and optimizing the use of public finances is often a difficult exercise, but should be the motive force of the organizations established and the actions performed.
This public service can be considered in different ways. However, the missions to be accomplished are similar regardless of the organization adopted. Regardless of whether they are provided comprehensively by public administration or rely on the private sector to a greater or lesser degree, it is indispensable that the activities devolving on each partner be clearly defined. This is why the establishment of contractual relationships within an administration or between an administration and private enterprise is necessary to perform winter maintenance.
This study does not claim to be exhaustive. It gives an initial overview of the existing practices and lays the first foundations of a discussion which can be continued in depth.
Information sheet
Date: 2009
Author(s): Comité technique 3.4 Viabilité hivernale / Technical Committee 3.4 Winter Maintenance
Domain(s): Road Network Operations / Winter Service / Road Assets Management
PIARC Ref.: 2009R01EN
ISBN: 2-84060-220-2
Number of pages: 123