The use of monetised values for socio-environmental impacts of road projects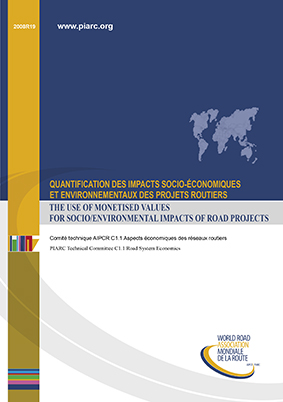 This report presents the current practice of monetising socio/environmental impacts in road project appraisal methodologies. It presents: a synthesis of the responses from 13 countries to an international survey; an overview of the HEATCO study on road project appraisal techniques across 25 countries of the European Union; and compares the findings of this last study with practice in Japan, Australia/New Zealand and on the American continent.
The report shows no consistency among the methodologies and values. It recommends the development of a thorough and robust evidence base to enable a more comprehensive methodology to be provided that will allow countries to produce a consistent set of values for monetised values of key socio/environmental impacts for use in road project assessments.
Information sheet
Date: 2008
Author(s): Comité technique 1.1 Aspects économiques des réseaux routiers / Technical Committee 1.1 Road System Economics
Domain(s): Environment / Economic Studies
PIARC Ref.: 2008R19EN
ISBN: 2-84060-219-9
Number of pages: 107