Transportation infrastructure financing for sustainable development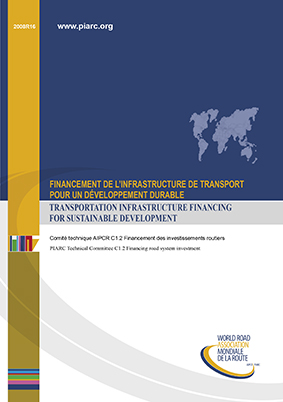 Today, countries are facing difficulties in allocating their financial resources amongst critically needed maintenance, and the desire to secure new infrastructure to increase network capacity and to preserve existing roadways.
This report explores the various financial procurement strategies implemented in different countries. It reviews how strategies can be defined to optimise cost management for long-term road system investments. The practices and trends in public private partnerships (PPP) are then analysed: the drivers and benefits of PPPs; the types and features of PPP models; how to use PPPs; risk management and how to protect public sector interest.
In the appendix, the report presents information on the experience gained by nine countries in PPPs.
Information sheet
Date: 2008
Author(s): Comité technique 1.2 Financement des investissements routiers / Technical Committee 1.2 Financing Road System Investment
Domain(s): Financing of Road System
PIARC Ref.: 2008R16EN
ISBN: 2-84060-217-2
Number of pages: 211