Evaluating the performance of automated pavement cracking measurement equipment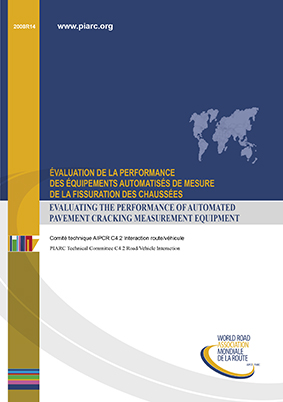 Crack type, severity and extent are among the most important data used to identify maintenance and repair actions. The use of automated crack measurement systems is increasing although performance tests of these devices are only conducted infrequently, and these are very often incomplete and non-uniform. The objective of this technical report is to help road administrations select automated systems in regard to their needs, therefore increasing the quality of the crack data used in pavement management systems.
First, the report presents a series of more objective and more detailed rules to measure and classify cracks. Three methods of evaluation of the reliability of automated crack measuring equipment are then proposed: at research level, project level and network level.
Information sheet
Date: 2008
Author(s): Comité technique 4.2 Interaction route/véhicule / Technical Committee 4.2 Road/Vehicle Interaction
Domain(s): Road Pavements
PIARC Ref.: 2008R14EN
ISBN: 2-84060-214-8
Number of pages: 59