Human powered transport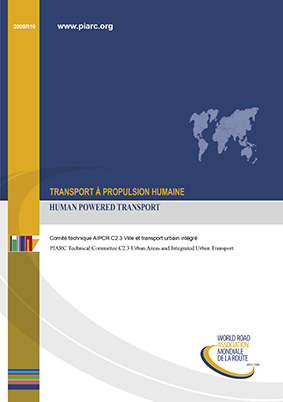 This report, prepared by PIARC Technical Committee 2.3 « Urban Areas and Integrated Urban Transport » deals with the topic of human powered transport, which is often ignored or lacks appropriate recognition as a viable mode of transport. However, it is a very important mode of transport from the point of view of its significance and sustainability.
The report focuses mainly on walking and cycling. A statistical analysis on these unmotorized modes of transport is presented, based on the results of a survey carried out with 21 European and Asian cities. Information is also provided on the infrastructure design for these two modes of transport in the cities considered.
Information sheet
Date: 2008
Author(s): Comité technique 2.3 Ville et transport urbain intégré / Technical Committee 2.3 Urban Areas and Integrated Urban Transport
Domain(s): Urban Mobility
PIARC Ref.: 2008R10EN
ISBN: 2-84060-210-5
Number of pages: 61