Sustainable transport in megacities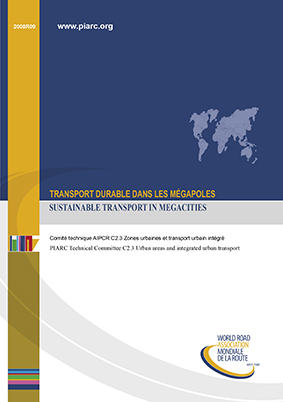 This report, prepared by PIARC Technical Committee 2.3 « Urban Areas and Integrated Urban Transport », presents a study on sustainable transport in megacities, i.e. cities of more than 10 million inhabitants, with a focus on four cities, 2 in developed countries (Paris, Tokyo) and two in developing countries (Mexico, Mumbai).
The report includes a description of the transport systems and how they are organized in each of the 4 cities, with an emphasis on the main features and trends.
Information sheet
Date: 2008
Author(s): Comité technique 2.3 Ville et transport urbain intégré / Technical Committee 2.3 Urban Areas and Integrated Urban Transport
Domain(s): Urban Mobility
PIARC Ref.: 2008R09EN
ISBN: 2-84060-209-1
Number of pages: 155