Management of the operator - Emergency teams interface in road tunnels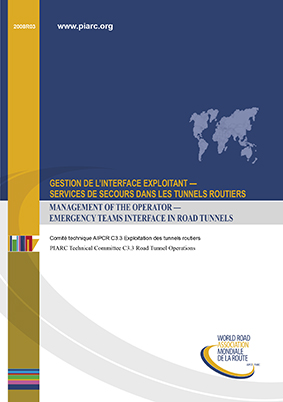 The purpose of this report is to assist the owners, operators of tunnels and emergency services to coordinate their operations in order to improve the level of safety for users, staff members and emergency teams during serious tunnel fires and tunnel incidents.
The first part presents the most relevant lessons learned from the more serious tunnel fires of the last decades. It explains the development of lorry fires and emphasizes the utmost importance of reducing the duration of all the precursor actions before the commencement of the intervention. The report demonstrates the necessity of concerted actions and dialogue between the owner, the operator and the emergency services from the tunnel design process to post incident analysis.
The second part proposes recommendations for coordinated actions for better emergency preparedness and planning.
The third section outlines recommendations for improvement to the preparation of the response to incidents and fires and sensible improvement to the level of safety for users, operator's staff and the emergency services.
Information sheet
Date: 2008
Author(s): Comité technique 3.3 Exploitation des tunnels routiers / Technical Committee 3.3 Road Tunnel Operation
Domain(s): Road Network Operations / Road Tunnel Operations
PIARC Ref.: 2008R03EN
ISBN: 2-84060-201-6
Number of pages: 75